MYRKUR at John Dee (Oslo, Norway)
Opening Act: JO QUAIL
Tuesday, November 4, 2018
by Jorge Patacas
Since the release of her first self-titled EP in 2014, Myrkur, the project of the Danish multi-instrumentist and actress Amalie Bruun, has been acclaimed and at the same time criticized with prejudice and without any serious foundation just for the fact that she included Black Metal parts in her music, because she didn't play this kind of music before. Despite those detractors with unfounded prejudices, "M", her debut album released by Relapse Records in 2015 had a lineup actually linked to Black Metal including Teloch of Mayhem on guitars and Øyvind Myrvoll of Nidingr on drums. The album was also produced by the great Kristoffer "Garm" Rygg of Ulver. It's a fact that with each new album (she just released an EP called "Juniper"), Bruun makes clear that she has a lot of talent both on the songwriting and performance, covering a broad spectrum of sounds, which has Scandinavian folk roots that are perfectly combined with her incredible ethereal voice, the use of traditional instruments and atmospheric Black Metal passages. This results in a unique formula that has taken the metal scene by storm. As part of her European tour, she performed with her band on November 4th at John Dee venue in Oslo, Norway, and it was the first time I had the opportunity to see her live show, so the expectations were high.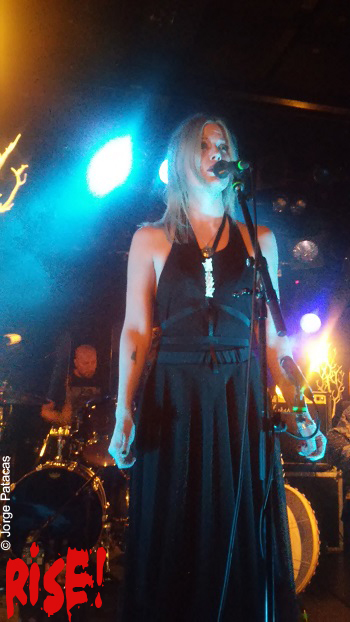 As a side note, Sigurd Wongraven AKA Satyr (vocalist for Satyricon) showed up minutes before the doors were opened. He was going to attend the show, so we talked for a couple of minutes and he clearly remembered the only show that Satyricon played in Uruguay back in 2011.
The doors were finally opened at 7:00 pm, and one hour later, the British cellist Jo Quail appeared on stage as the opening act. She was there alone with her cello and some recorded tracks and managed to catch the attention of the audience that almost filled the venue. Quail has released three LPs, three EPs and a live DVD since she began her career in 2010. For this forty-minute performance, she chose four long songs, each of them having a previous introduction and explanation of what had inspire her at the time of writing them. Even though these are instrumental compositions, topics such as night or the power that water has over humanity are some of the inspirations of Quail at the time of writing her pieces which are hypnotic at times, while others have both quiet and loud passages, ensuring the applause and the good reception of the audience.
Just fifteen minutes after the end of her show, the lights went out and the musicians of Myrkur (which means "Darkness" in Icelandic, by the way), began to come out one by one on stage, including Jo Quail again on cello.
The setlist was split in two parts, starting with a purely folk acoustic set with five musicians on stage apart from the vocalist, who surprised us with a powerful voice, even with some acapella passages that left everyone astonished. "Bonden og Kragen", from her last EP, "Jenta", "Flickan", "Ramund", "House Carpenter" (first English song of the night) and "Himlen Blev Sort" were included on the first half of the set, which concluded with a Nyckelharpa (Swedish traditional string instrument) solo by Myrkur herself.

After a brief interlude where the stage lights remained off, an eerie intro announced the second part was about to start. With an outfit and makeup change and now as an electric quartet, they started the second half of their show with "The Serpent" from the acclaimed second studio album "Mareridt" (2017). A clearly darker atmospher reigned the rest of the performance, although the folk aspects of her music are always there in some way or another and Bruun was also more theatrical as far as the show is concerned. One of her anthems, "Ulvinde", was undoubtedly one of the best moments with the audience singing the chorus giving us the goosebumps, something that speaks for itself taking into account that one has been going to shows for almost twenty years now, so you naturally get used to them, so when you have that feeling again at this point, it's because the music really reaches your soul. This same feeling reappeared in great songs such as "Onde Børn" or "Jeg Er Guden, I Er Tjenerne". For "Dybt I Skoven", Bruun put on the guitar and showed her skills with this instrument as well, and later, the frenetic Black Metal made its presence on "Måneblôt". For the end of the show, she chose to play her latest effort, "Juniper", a highly emotive song written in English, for which she also released a video clip recently.
Amalie Bruun is extremely talented and charismatic on stage, and manages to captivate her fans, either with her calmest and folk songs or the darker ones in the Black Metal direction. She also has a great line up, so the whole show is definitely worth it. Totally recommended!
SETLIST MYRKUR
01- Bonden og Kragen
02- Jenta
03- Flickan
04- Ramund
05- House Carpenter
06- Himlen Blev Sort
07- Nyckelharpa Solo
08- The Serpent
09- Ulvinde
10- Dybt I Skoven
11- Onde Børn
12- Jeg Er Guden, I Er Tjenerne
13- Elleskudt
14- Skøgen Skulle Dø
15- Måneblôt
Bis:
16- Juniper