MASTODON / KVELERTAK / MUTOID MAN at Oslo Spektrum Arena (Oslo, Norway)
Sunday, February 3, 2019
by Jorge Patacas
Less than a year and a half has passed since the last performance of the North American band Mastodon in Norwegian soil. At that time, November 2017, the band performed at the Sentrum Scene, a venue located in Oslo downtown with capacity for 1750 people, where, by the way, the Brazilians Sepultura played on their "Chaos A.D." tour during their glory days in October 1993. This time the concert promoters decided to go for a bigger place, and that's how Mastodon would perform at the great Oslo Spektrum Arena, opened in December 1990 with a capacity for 9700 attendees. The recent Slayer, Anthrax, Lamb of God and Obituary concert in Oslo as part of their European tour was held here, as well as renowned bands of different genres from Rammstein to A-ha or the Red Hot Chili Peppers, so this gives you an idea of what's Mastodon position in the scene today, and we can confirm that considering that the venue was almost full.
Two more bands are part of their European tour, fellow countrymen Mutoid Man and the Norwegians Kvelertak who have got people talking about their musical proposal for some years now.
With a perfect organization by Live Nation, the doors were opened as expected at 7:00 p.m., and twenty minutes later, Mutoid Man began his half-hour set. The trio formed in 2012 by Stephen Brodsky (Cave In) on voice and guitar, Nick Cageao on bass and Ben Koller (Converge) on drums, showed all their abilities through nine songs from their two studio albums, "Bleeder" (2015) and "War Moans" (2017), as well as a tune ("Gnarcissist") from their debut EP "Helium Head" (2013).
The first songs were played in a flash one after another almost with no breath in between until they talked to the audience making some jokes too. Musically they are quite difficult to categorize, but you can notice influences from Hardcore Punk, Heavy Metal, Hard Rock and certain progressive hints. Their discharge of energy on stage left nothing but an excellent impression on the audience, and this way they left everything ready for Kvelertak, who on this date acted as a local band.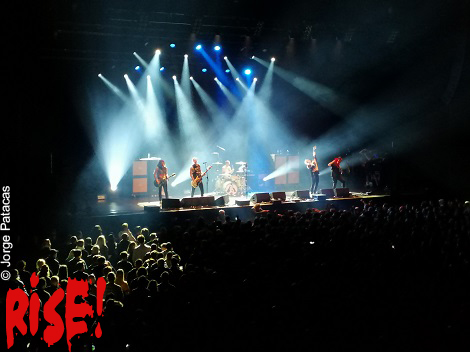 Personally, I had the opportunity to see them before playing in one of the main stages of the Wacken Open Air 2015 with their former vocalist Erlend Hjelvik. However, this performance at the Spektrum Arena was far superior. Perhaps an indoors venue like this fits them better, having the chance to be closer to the audience, since, despite having a much greater capacity than an underground club, there is less distance between the stage and the first row compared to the Wacken Open Air.
With three guitars played by Bjarte Lund Rolland, Vidar Landa and Maciek Ofstad, plus Marvin Nygaard's bass and Kjetil Gjermundrød's drums, the band began their show with "Åpenbaring", and the new vocalist Ivar Nikolaisen appeared on stage. Although he joined in July last year, it seems he had been in the band from the beginning. The dominance on stage and the energy displayed by the vocalist of the punk band The Good, The Bad and The Zugly, show why the Stavanger band chose him when looking for new vocalist. He did not stop moving from one side to the other during the whole show, cheering the audience up, doing headbanging, going down to sing along with those who were in the front rows on several occasions, an attitude that also took the bassist Marvin Nygaard in one opportunity, even doing crowdsurfing while he was still playing.
Some of their most catchy songs were part of the setlist, such as "Bruane Brenn" (the riff sticks in your mind for hours and it gives you goose bumps when you hear it live!), "1985", "Blodtørst" and the ending with "Kvelertak", one of their classics at this point. This sextet not only has very direct songs, but also that "in your face" attitude that is missed so much on the big bands these days. There are influences of various genres on their music, from Hard Rock and Punk with inspiration on their countrymen Turbonegro, to Heavy and certain hints of Black Metal (that night this was perceived in songs like "Nekroskop" or "Mjød"), but more than anything what they offer is a great Rock N' Roll show. Simply brilliant!

Everything could have ended there and the audience would have been satisfied, but there was still the main band of the night.
While "Singin' In The Rain" by Gene Kelly was played as an intro (impossible not to think of Stanley Kubrick's classic film, "A Clockwork's Orange"), seven upright screens are located behind the drum kit, and the four members of Mastodon start their set with "Iron Tusk". These are lit showing psychedelic images that kept the audience almost hypnotized for most of the night, as they consistently fit each of their Sludge riffs and the progressive passages which are part of their tunes. The band from Georgia, Atlanta, decided not to focus that much on their catchy material such as "High Road", "Oblivion", "The Motherload" or the stoner-ish "Curl of the Burl", they went for their more technical and experimental side with songs like "Ghost of Karelia", "Capillarian Crest" or "Toe to Toes" from their latest EP "Cold Dark Place" (2017), in which the four members alternate their vocal duties according to the tune played, as they usually do, each of them is an essential piece on the band. When there were six songs left to play, the band asked for an applause for the special guest who would sing with them the rest of the night. It was Scott Kelly, vocalist and guitarist of Neurosis, a band that had a great impact on the metal scene, especially with their album "Through Silver in Blood" in 1996 that brought with it a new sound which was labeled as Post-Metal serving as inspiration for a lot of bands that emerged later, including Mastodon themselves who surely never imagined that they would go that far when they formed back in 2000.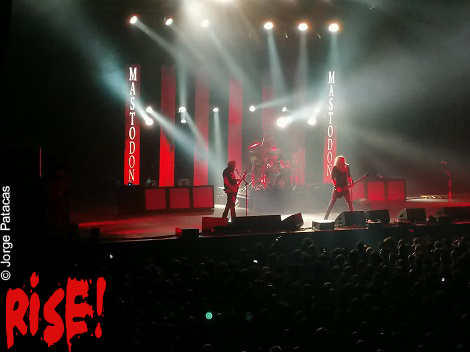 There was also room for some of their all time singles such as the aforementioned "Iron Tusk", "March of the Fire Ants", from their now old school "Remission" album (2002), the most recent and hypnotic "Steambreather" which has a video somewhat bizarre, but original and effective, and the end with pure riffing came with "Blood and Thunder", it was impossible not to move our heads. After an hour and a half, the members started to leave the stage, while the lights turned on. Only the drummer/vocalist Brann Dailor stayed, he took the microphone to thank the audience for being ghere, as well as making jokes, explaining that Troy Sanders (bassist/vocalist) was having issues with his vocal cords hours before the show and he spent all day in silence to get better and to give his 100% for a good show (and he succeeded!). Then he promised to return to "play more riffs" and threw some drum sticks before leaving the stage. This was the most interaction with the audience that night. Clearly it is one of those bands who prefers to submerge the audience within its sound and visual proposal, and they succeeded on that, considering its ever growing popularity during the last two decades.
SETLIST MUTOID MAN
01- Melt Your Mind
02- Bone Chain
03- Micro Aggression
04- Kiss of Death
05- Date With the Devil
06- 1000 Mile Stare
07- Wreck and Survive
08- Bridgeburner
09- Gnarcissist
SETLIST KVELERTAK
01- Åpenbaring
02- Bruane Brenn
03- Nekroskop
04- 1985
05- Fossegrim
06- Blodtørst
07- Berserkr
08- Mjød
09- Månelyst
10- Kvelertak
SETLIST MASTODON
01- Iron Tusk
02- March of the Fire Ants
03- Mother Puncher
04- Steambreather
05- Precious Stones
06- Sleeping Giant
07- Toe to Toes
08- Ghost of Karelia
09- Capillarian Crest
10- I Am Ahab
11- Megalodon
12- Ancient Kingdom
13- Scorpion Breath (with Scott Kelly)
14- Crystal Skull (with Scott Kelly)
15- Aqua Dementia (with Scott Kelly)
16- Crack the Skye (with Scott Kelly)
17- Diamond in the Witch House (with Scott Kelly)
18- Blood and Thunder (with Scott Kelly)
Tags:
kvelertak
,
mastodon
,
mastodon oslo
,
mastodon oslo review
,
mastodon review
,
mutoid man