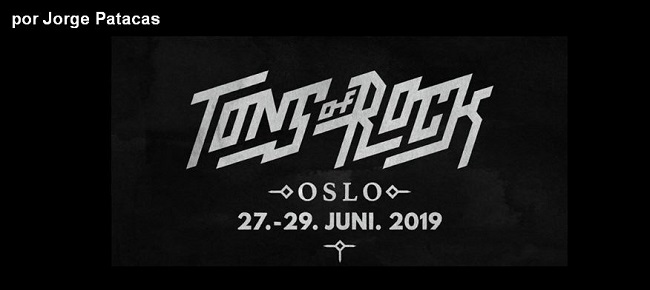 In just 5 years, Tons of Rock has become one of the most important rock and metal festivals in Norway. The first edition (2014) was held at the Frederiksten fortress located in Halden, a town near the border with Sweden, and it was a success thanks to a great organization and lineup which featured bands such as Slayer, Anthrax, W.A.S.P., Ghost, Sabaton, Kvelertak, among many others.
The event got bigger on the follow-up editions (even Black Sabbath played their final show in Norway at the festival) and this year the promoters decided to move the festival to Ekeberg, a neighborhood in the capital city of Oslo. Tons of Rock 2019 will be held between June 27th and 29th with a grand opening on June 26th at the iconic Opera House in Oslo where the german legends Accept will play together with Norway's most important orchestra, KORK, in an exclusive performance. Other highlights of the festival will be Kiss as part of their farewell "End of the Road" world tour, Slayer playing their final show in Norway, Satyricon with an exclusive show playing the "Rebel Extravaganza" album in its entirety, Volbeat, Def Leppard, Testament, Mayhem, In Flames, Behemoth, Dream Theater and many more!
Besides the great bands, there will be other activities that will be announced soon!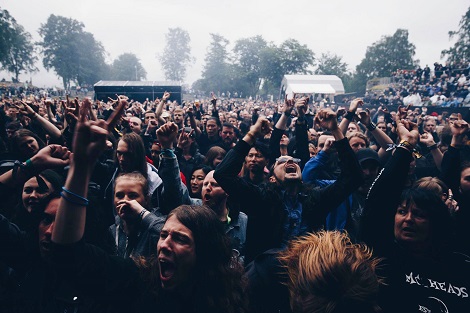 This is the lineup for Tons of Rock 2019.
THURSDAY, JUNE 27
KISS
DROPKICK MURPHYS
BEHEMOTH
SATYRICON
ULVER
AMARANTHE
BLACK DEBBATH
DJERV
WHILE SHE SLEEPS
PERTURBATOR
HEAVE BLOOD & DIE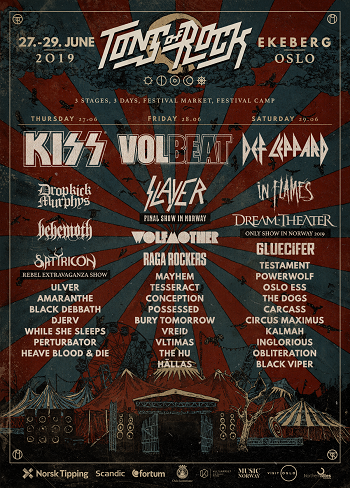 FRIDAY, JUNE 28
VOLBEAT
SLAYER
WOLFMOTHER
RAGA ROCKERS
MAYHEM
TESSERACT
CONCEPTION
POSSESSED
BURY TOMORROW
VREID
VLTIMAS
THE HU
HÄLLAS
SATURDAY, JUNE 29
DEF LEPPARD
IN FLAMES
DREAM THEATER
GLUECIFER
TESTAMENT
POWERWOLF
OSLO ESS
THE DOGS
CARCASS
CIRCUS MAXIMUS
KALMAH
INGLORIOUS
OBLITERATION
BLACK VIPER
You can find more information on https://tonsofrock.no/