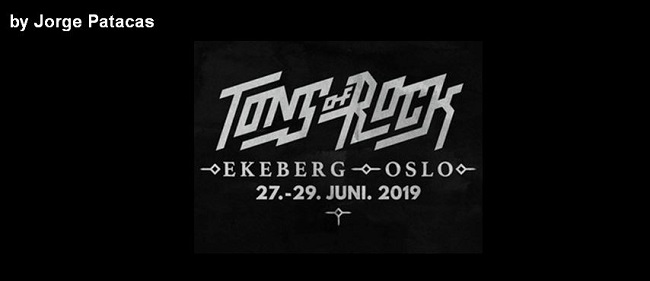 Starting in 2014, Tons of Rock has quickly become one of the biggest and most important festivals in Norway with people from more than 50 other countries visiting as well. Also they always feature bands from different genres, so there's something for everyone no matter your age and musical taste, and that's one of the keys for their success. For its sixth edition, the organisers decided to move the event from Halden to Oslo, using a huge green area called Ekebergsletta located in the Ekeberg area, a few minutes away from the city centre.
OPENING CONCERT – WEDNESDAY, JUNE 26
ACCEPT + KORK (Norwegian Radio Orchestra)
The opening concert was held on June 26th at the Oslo Opera House where the German legends Accept played together with the KORK (Norwegian Radio Orchestra) giving a magnificient concert. They played with the Czech National Symphony Orchestra on one of the main stages at Wacken Open Air in 2017, but this was a different experience being indoors on a really special venue like the Opera House, better known as Operahuset or Operaen in Norwegian.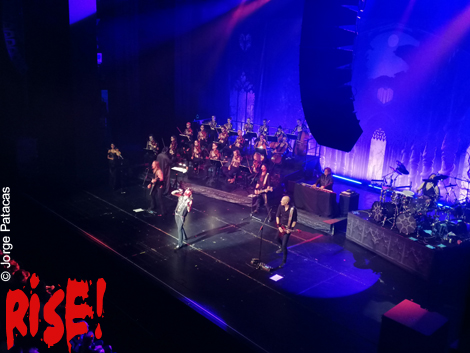 The orchestra (even the director) came out on stage in skeleton costumes and together with a keyboardist, a violinist and the band members they started the performance with some classical music pieces from Mussorgsky ("Night on the Bald Mountain") and Beethoven ("Scherzo" and "Pathetique") and then the vocalist Mark Tornillo appeared on stage to play "Princess of the Dawn", the first Accept song of the evening.
We were able to listen to many of their anthems as well as some of their material from recent years with Tornillo on vocals such as "Stalingrad" for instance. Some more classical pieces were played by the band while the vocalist went off backstage; one of these was the amazing "In The Hall of the Mountain King" by the Norwegian composer Edvard Grieg, which caused enthusiasm on the audience. Another highlight was "Metal Heart" with the crowd singing along its immortal riff. The encore consisted of "Teutonic Terror" from their "Blood of the Nations" album released in 2010, and the long awaited "Balls to the Wall". Approximately ninety minutes of a fantastic opening concert on a Wednesday evening.
Outside it was raining but that didn't stop "Detroit Rock City" from sounding while fireworks came out from the building's roof to mark the beginning of Tons of Rock 2019. Luckily, the weather conditions changed the next day and it was warm and sunny the whole festival.
DAY 1 – THURSDAY, JUNE 27
When entering the festival area, you could see how everything was distributed accordingly, from the food and merch stalls to the amusement park for kids, everything was in the right place. There were also a special tent called Tons of Art where different artists had exhibitions, the camping and press area, and three stages: the main one and two others called Scream Stage and Vampire Stage, named after the works by Edvard Munch, the most popular painter from Norway and one of the most important painters in the world. In fact, there were discounts on the Munch Museum for those who showed the festival wristband at the entrance.
The positive aspect about the distribution of the stages is that you could go from one stage to the other in less than five minutes, so you wouldn't miss any band unless they were playing at the same time.

BEHEMOTH
Frontman Nergal and the rest of Behemoth really know how to make the audience being part of the show, doesn't matter if they're playing indoors in a cold winter night as the last time they played in Oslo earlier in the year, or in a sunny afternoon at an open-air festival like this one. Behemoth is all about music on the first place, but also about strong imagery that includes corpse paint, masks, cloaks and lots of fire, and most of all, the attitude on stage. They've been doing this for twenty eight years already and they have evolved enormously since their early days by working really hard, so their current success is well-deserved. They got a great response from the audience who enjoyed a powerful setlist similar (but not the same) to their previous concert in the city.
SETLIST:
01- Wolves ov Siberia
02- Daimonos
03- Ora Pro Nobis Lucifer
04- Bartzabel
05- Ov Fire and the Void
06- God = Dog
07- Conquer All
08- Sabbath Mater
09- Decade ov Therion
10- Blow Your Trumpets Gabriel
11- Chant For Eschaton 2000
Encore:
12- Lucifer
13- We Are The Next 1000 Years
AMARANTHE
Since the release of their self-titled first album, the Swedish combo Amaranthe's fanbase has been growing every year. The secret? Their music is a blend of Power Metal, Metalcore breakdowns and Pop with electronic elements which is original, and they're also full of catchy songs. Plus, they have three singers: Elize Ryd has a melodic voice closer to pop music, Nils Molin is also a melodic vocalist who could be the singer of a traditional Power Metal band and Henrik Englund Wilhelmsson is in charge of the more aggressive vocals.
The opener was "Maximize" and the connection between the band and crowd was perfect since the beginning. For the ballad "Amaranthine", Elize stood alone on stage for the first verses joined by the rest of the band while the fans were jumping, cheering and applauding. The singles "Hunger", "The Nexus" and the closure with "Drop Dead Cynical" got the most participation from the audience.
SETLIST:
01- Maximize
02- Digital World
03- Inferno
04- Hunger
05- Amaranthine
06- GG6
07- Dream
08- Helix
09- Breakthrough Starshot
10- The Nexus
11- Drop Dead Cynical
SATYRICON
This year marks the 20th anniversary of their "Rebel Extravaganza" album, so they decided to celebrate it by playing the album in its entirety which was a good decision, specially for the die-hard fans. This was a very important album in Satyricon's career since it marked a shift from the more traditional Black Metal to a new ambitious era of experimentation with the sound and image.
The band's aesthetics during the performance were according to the album art and they delivered the goods including those outstanding blast beats by Frost who is still a monster behind the drum kit.
As part of the encore, Satyr picked up the guitar and left the vocal duties to the special guest, Sivert Høyem (Madrugada) who sang the catchy "Phoenix" in front of a cheering audience who sang along. They concluded with "K.I.N.G.", which has become a classic on their repertoire.
SETLIST:
01- Tied in Bronze Chains
02- Filthgrinder
03- Rhapsody in Filth
04- Havoc Vulture
05- Prime Evil Renaissence
06- Supersonic Journey
07- End of Journey
08- A Moment of Clarity
09- Down South, Up North
10- The Scorn Torrent
11- Phoenix (with Sivert Høyem)
12- K.I.N.G.
KISS
Yes, it's true that Kiss promised they were doing one last tour several times before and they went on after that. But this "End of the Road" farewell tour might be the final one for real, so it was a chance not to be missed to see them again or for the first time depending on the case.
There were lots of discussions regarding Paul Stanley's vocal issues over the last decade, but the truth is that he manages to sound very good, maybe it helps taking a breather while Gene Simmons takes over the vocal duties on some of the songs on the set. The opener "Detroit Rock City" put everyone on the mood to party with lots of pyro and fireworks, and this was followed by classics such as "Shout It Out Loud" and "Deuce" with those simultaneous traditional guitar movements that we all love. They played mostly songs from the 70's and 80's with sing-a-long hits like "Heaven's On Fire" and "Lick It Up". Then it was time for a drum solo at the end of "100,000 Years" where Eric Singer looked at the camera in a theatrical way, then a guitar solo by Tommy Thayer at the end of "Cold Gin" and a bass solo before "God of Thunder" where Gene plays on a floating platform and the audience which included people from all ages (from kids to grandparents) witnessed his bloody tongue.
Other highlights were Gene blowing fire on the ageless "War Machine" and "Psycho Circus" with a great performance by Paul. At this point everyone was already in an euphoric mood as it should be in a Kiss concert. Then Paul was sent to the audience in a harness to play "Love Gun" and "I Was Made For Lovin' You" where people sang and danced with the catchy hit from their disco-influenced album "Dynasty", which turned 40 (!) this year.
Right after that it was time for "Black Diamond" where the drums were raised and the audience got to see a lot of pyro again before the four members went off the stage for the first time. After a while, Singer came out to play piano and sing the ballad "Beth" joined by the rest of the band later to play "Crazy Crazy Nights" were large balloons and a confetti explosion came out among the crowd. The final song was "Rock And Roll All Nite" and everything turned into a total party with insane amounts of confetti coming out from stage, finishing with pyro and fireworks and a banner saying "Kiss Loves You Oslo". The show was over by 11 pm and while there was still daylight (that's how summer in Scandinavia is), the crowd started to leave the field either to go to different after parties in the city centre (with buses that the festival organization put on disposal) or take some rest, since the next day would be full of great shows and lots of fun.
SETLIST:
01- Detroit Rock City
02- Shout It Out Loud
03- Deuce
04- Say Yeah
05- I Love It Loud
06- Heaven's On Fire
07- War Machine
08- Lick It Up
09- Calling Dr. Love
10- 100,000 Years
11- Cold Gin
12- God of Thunder
13- Psycho Circus
14- Let Me Go, Rock N' Roll
15- Love Gun
16- I Was Made For Lovin' You
17- Black Diamond
Encore:
18- Beth
19- Crazy Crazy Nights
20- Rock And Roll All Nite
DAY 2 – FRIDAY, JUNE 28
VLTIMAS
The supergroup formed in 2015 by Rune "Blasphemer" Eriksen (Aura Noir, ex Mayhem) on guitar, Flo Mounier (Cryptopsy) on drums and David Vincent (ex Morbid Angel) on vocals has released their debut album "Something Wicked Marches In" this year. For their current tour, they recruited Ype Terwisscha van Scheltinga on bass and Joao Duarte on drums and played the entire album in the same order with a pretty tight and brutal sound in front of an excited audience. Good to see these fantastic musicians playing live together!
MAYHEM
We all know the dark events from the past that will forever be part of Mayhem's history, but we're in 2019 now and they're about to release a new album via Century Media after a long time being signed by Season of Mist label. For Tons of Rock they decided to play stuff from all their career, starting with "Ancient Skin" from their "Wolf's Lair Abyss" EP released in 1997. The crowd got really excited when the quintet put on their cloaks and "Freezing Moon" sounded, followed by "Life Eternal" and "De Mysteriis Dom Sathanas". There was time for older material as well such as the classic "Deathcrush" (which led to some moshpit in the crowd), "Carnage" and "Pure Fucking Armageddon" to close the blasphemous ceremony. A solid performance with the unique vocals of Attila Csihar, the strong attitude of founding member Necrobutcher on bass, the always impressive Hellhammer on drums and great work by Teloch and Ghul on guitars.
SETLIST:
01- Ancient Skin
02- To Daimonion
03- Dark Night of the Soul
04- A Bloodsword and a Colder Sun, Part II
05- Freezing Moon
06- Life Eternal
07- De Mysteriis Dom Sathanas
08- Deathcrush
09- Carnage
10- Pure Fucking Armageddon
SLAYER
One of the most awaited performances of the festival was the one from the Thrash Metal legends Slayer who are on their farewell world tour. After their amazing show at Oslo Spektrum from December last year, the Norwegian fans had one last chance to see them live at Tons of Rock, so this was a very important evening. Tom Araya, Kerry King, Gary Holt and Paul Bostaph went on stage and started out with the bombastic "Repentless", followed by "Evil Has No Boundaries", the all-time classic from their debut album "Show No Mercy" (1983). The entire performance was a parade of thrash riffs with anthems such as "Disciple", "Mandatory Suicide", "Chemical Warfare", "Seasons in the Abyss", "South of Heaven", "Raining Blood", "Black Magic", and the list goes on, such a perfect setlist! There were not that many speeches during the performance, it was just pure massacre, a killing machine shooting one bullet after another which made it impossible to stop moving and headbanging the whole time. "Dead Skin Mask" and the infernal "Angel of Death" were the last ones of a concert that ended up with people in tears while Araya stood on stage for some minutes just staring at the audience who gave a standing ovation. It was a very emotional evening, the crowd was happy for having seen the masters once again, but at the same time they all knew this was their final show, in this Nordic country at least. Definitely one of the highlights of the whole festival.
SETLIST:
01- Repentless
02- Evil Has No Boundaries
03- World Painted Blood
04- Postmortem
05- Hate Worldwide
06- War Ensemble
07- Gemini
08- Disciple
09- Mandatory Suicide
10- Chemical Warfare
11- Payback
12- Seasons in the Abyss
13- Hell Awaits
14- South of Heaven
15- Raining Blood
16- Black Magic
17- Dead Skin Mask
18- Angel of Death
POSSESSED
Possessed have released "Revelations of Oblivion", their first album in 33 years (!) in 2019 and they got well-deserved positive reviews. They've toured for the last few weeks and the last stop of the European leg was in Oslo, so it was a very special show. Despite being in the wheelchair, the legendary Jeff Becerra has a lot of energy and delivers a great performance together with the rest of the band consisting of Daniel Gonzalez (Gruesome) and Claudeous Creamer (ex Dragonlord) on guitars, Robert Cardenas (Coffin Texts) on bass and Emilio Marquez (Asesino) on drums. They performed songs from their latest album such as "Demon" and "Graven" which were well-received by the crowd as well as their stuff from the old days like "The Exorcist" and "Death Metal". Brilliant!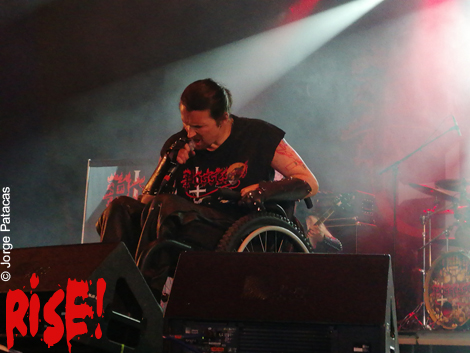 VOLBEAT
When the festival lineup was announced, many were shocked when they saw Volbeat as a headliner on the second day of the festival. Their style which combines Heavy Metal with Rock N' Roll and Rockabilly (sort of Metallica meets Johnny Cash) was something new when they came out with their first album "The Strength/The Sound/The Songs" in 2005.
There are many bands who sound original in their own way, but somehow never gained the popularity that these Danes have nowadays. Personal musical tastes aside, it's a fact that these guys have managed to play at stadiums for 20.000 people which is of course a lot for a band who started on the previous decade and doesn't have any legendary status. They even set the record for the biggest show by a domestic artist in Denmark ever on August 26, 2017 when they played at Telia Parken in Copenhagen. As they're about to release a new album, we got to listen to some new songs such as "Last Day Under The Sun" and "Leviathan", and of course many of their classics like "Sad Man's Tongue" and the fans all-time favorite "Still Counting" as well.
SETLIST:
01- The Devil's Bleeding Crown
02- Lola Montez
03- A New Day
04- The Everlasting
05- 16 Dollars
06- Dead But Rising
07- Sad Man's Tongue
08- Leviathan
09- Let it Burn
10- Seal the Deal
11- Parasite
12- Last Day Under The Sun
13- Pool of Booze, Booze, Booza
14- The Mirror and the Ripper
15- Caroline Leaving
16- Black Rose
17- Doc Holliday
18- Fallen
Encore:
19- Still Counting
DAY 3 – SATURDAY, JUNE 29
THE DOGS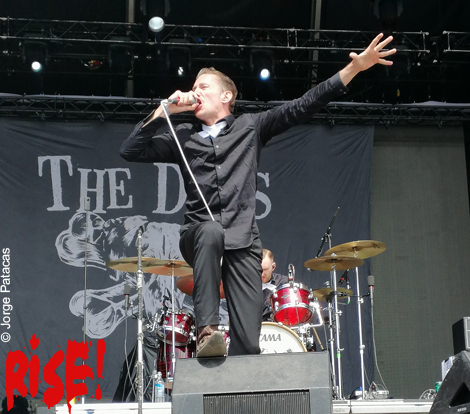 For those who don't know them, The Dogs is a punk band founded in 2011 in Oslo. They're very popular within the Norwegian rock scene and that's why there were quite a lot of people in the sunny afternoon to see them performing live on the main stage. They have an image that reminded me to the Swedish band The Hives (remember?), but their music is very different. The charismatic frontman Kristopher Schau knows how to manage the crowd pretty well and he even got to plunge into them. Songs like "Let's Start a Riot", "I Don't Wanna", "Who's Gonna Pay" and "O.S.L.O." are some of their best and the audience got all of them, so they were very satisfied by the end of the show.
SETLIST:
01- You Never Loved Me At All
02- Suicidal Appetite
03- There Won't Be An Encore
04- We Were Made Out Of Loss
05- Are You With Him Now
06- No Pleasant Suprise
07- Anything You Don't Regret
08- Let's Start a Riot
09- G.U.I.L.T.Y.
10- I Don't Wanna
11- Who's Gonna Pay
12- O.S.L.O.
KALMAH
Not too many people at the Vampire Stage because Dream Theater was playing at the same time on the Main Stage. However, these Finnish warriors can teach on how to play melodic death metal the right way. There are way too many bands playing this kind of music out there, but their style of aggressiveness intertwined with incredible melodic guitar solos and melodic keyboard melodies is just unique. They played a mix of songs from their latest effort "Palo" (2018) and older ones being "Heroes to Us" one of the best moments of their performance. People ended up screaming the name of the band again and again.
TESTAMENT
The legendary thrashers from the Bay Area were one of the highlights of Tons of Rock. As simple as that. They delivered a flawless performance with the vocalist Chuck Billy on the best mood possible and the rest of the band displaying full energy which makes sense considering that we're talking about Eric Peterson and Alex Skolnick on guitars, Steve DiGiorgio on bass and one of the best drummers ever, Gene Hoglan. They started out with "Brotherhood of the Snake", the title track of their latest album, and some minutes later everything turned into a parade of old school thrash classics. It was impossible not to headbang to "Practice What You Preach", "The New Order", "Into the Pit" (which of course included some moshpit) and "Disciples of the Watch" where everybody screamed "Obey!" on the chorus. Billy had a really good interaction with the crowd and he even referred to MTV "when they used to play videos, not the bullshit they play now", as an introduction to "Over The Wall" which was the first Testament videoclip ever. 33 years later (or 36 if you consider their years under the name Legacy), they're more alive and well than ever.
SETLIST:
01- Brotherhood of the Snake
02- The Pale King
03- More Than Meets the Eye
04- Practice What You Preach
05- The New Order
06- Electric Crown
07- Into the Pit
08- Over the Wall
09- Disciples of the Watch
10- The Formation of Damnation
IN FLAMES
At this point, it's obvious to say that In Flames sound has changed a lot over the years. If you're a casual listener, you wouldn't believe their first and last album are from the same band. There were also many lineup changes along the way, so this time we even got to see Chris Broderick (ex Megadeth) on guitars. That was a surprise for many, but a nice one, since the six string master was really into the show as if he had been part of the band since the beginning. It was clear that he and Björn Gelotte, the other guitar player, understands each other and it was great to witness that during the entire performance. Last year, the North Americans Bryce Paul Newman and Tanner Wayne joined the band on bass and drums respectively, and Niels Nielsen has been playing keyboards live for two years now. He's a very important piece on the newer songs which is basically what they're playing the most these days. All these changes brought them a new generation of young fans who were crowdsurfing the whole show, something that we haven't seen that much in the rest of the festival. They played songs from their latest album "I, The Mask", released this year as well as others from recent albums like "Siren Charms" (2014), but there was also room for some older gems like "Pinball Map", "Colony" (the album of the same name turned 20 this year), "Cloud Connected" and "Leeches" which can be considered old since it came out 13 years ago already.
They delivered a great show full of energy, catchy riffs, great job on both guttural and clean vocals by Anders Fridén and they had one of the best crowd reactions at Tons of Rock.
CARCASS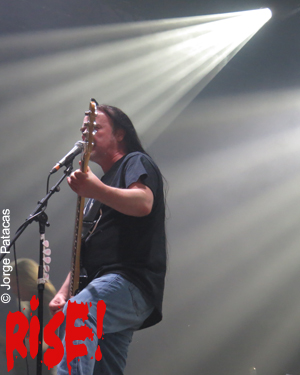 The British Grindcore pioneers Carcass played a mix of songs from all their different eras at the Vampire Stage. "316L Grade Surgical Steel" from their "Surgical Steel" reunion album (2012) hit the audience and subsequently "Buried Dreams" from their classic "Heartwork" album (1993) showed a band giving their best with Jeff Walker on bass and vocals, Bill Steer and their most recent addition, Tom Draper, on guitars, and Daniel Widling on drums. The old school Grind showed up in the form of "Exhume to Consume" with great vocal work by both Walker and Steer. There was room for everyone here as they moved forward with "Incarnated Solvent Abuse", the most recent and catchy "Unfit for Human Consumption", the old school "Genital Grinder" and back to the "Heartwork" album with "This Mortal Coil" and their melodic death sound. Then they revisited the criminally underrated "Swampsong" album (1996) with the death n' roll single "Keep On Rotting In The Free World" followed by two classics: "Corporal Jigsore Quandary" and "Heartwork".
SETLIST:
01- 316L Grade Surgical Steel
02- Buried Dreams
03- Exhume to Consume
04- Incarnated Solvent Abuse
05- Unfit For Human Consumption
06- Genital Grinder
07- This Mortal Coil
08- Keep On Rotting In The Free World
09- Corporal Jigsore Quandary
10- Heartwork
11- Carneous Cacoffiny (Outro)
DEF LEPPARD
Headliners for the last day of the Tons of Rock 2019 were the legendary British band Def Leppard, who decided to go for a setlist full of hit singles and sing-a-long songs, since they have so many to choose from. They opened with "Rocket", "Animal" and "Let it Go", and the crowd was already euphoric, and that makes sense considering those are all classics. The band was formed 42 (!) years ago and despite the age of its members, they're still putting a great show together. "Let's Get Rocked" made people dance, "Armageddon It" made them sing and the ballads "Love Bites", the acoustic "Two Steps Behind" and "Bringin' on the Heartbreak" made them feel emotional. Close to the end of the show, they did a small tribute to the late David Bowie at the end of "Hysteria" by singing part of "Heroes". Then we got the radio hit "Pour Some Sugar on Me" before the encore which consisted of two songs from the "Pyromania" album (1983), "Rock of Ages" and "Photograph" with their unforgettable choruses.
SETLIST:
01- Rocket
02- Animal
03- Let It Go
04- When Love and Hate Collide
05- Let's Get Rocked
06- Armageddon It
07- Rock On (David Essex cover)
08- Two Steps Behind
09- Man Enough
10- Love Bites
11- Bringin' On The Heartbreak
12- Switch 265
13- Hysteria
14- Pour Some Sugar On Me
Encore:
15- Rock of Ages
16- Photograph
Tons of Rock 2019 was a success with a really good organization and the audience left with a smile on their faces, already looking forward to the next year's edition. Skål!