HELLBOTN METALFEST 2019 (Kolbotn, Norway)
August 30-31, 2019
by Jorge Patacas
Hellbotn Metalfest started out in 2014 in the city of Kolbotn located 20 minutes from Oslo, known for being the hometown of bands like Darkthrone. Since the beginning, the organizers had the idea of creating a festival for local bands, adding bigger names from the Norwegian scene year after year. This edition was held once again at Kolben Kulturhus which, as the name suggests, is a cultural center where, among other things, there are concert halls. Previously they used only the small stage, but in 2019 only the first day had concerts in that room, while for the second stage they added the larger main stage and another hall as a secondary stage.
DAY 1
It all started on Friday, August 30th with sold out tickets, where four bands were part of the lineup. Filthdigger straight from the Norwegian capital city were the first to appear on stage, and they had no mercy, attacking from the beginning with their old school Death Metal full of power and energy. Unfortunately, the fire alarm went on during their performance due to the smoke machine installed on the stage, so the venue had to be evacuated for about fifteen minutes until we were told to re-enter, and so the band was able to resume their set that featured songs from their only album album so far, "Damned by the Living Dead" (2016).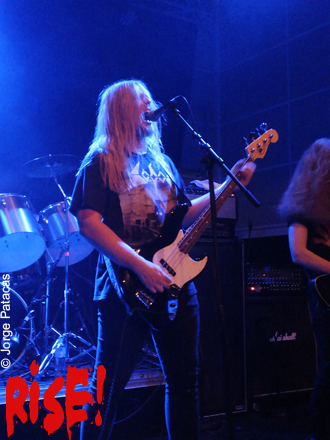 Incinerator was the next group on stage, with members of Austrian, Bulgarian and Norwegian origin, but based in Kolbotn and Oppegård. They have just released their debut EP "Awakened by Evil" on cassette through the local label Snake Oil Kassettforlag, so they played songs included in it, with "Angel Slayer" being a highlight. Very interesting Black/Thrash band that is worth watching live.
Another band that came out of Kolbotn is Nekromantheon, who played next. Among its ranks are Arild Myren Torp (guitar/vocals) and Sindre Solem (bass/vocals), who also share duties in Obliteration, but unlike their other project, Nekromantheon have more Thrash influences, although the old school flame is there too. Excellent performance with Solem really into the show encouraging the audience to scream at all times.
After five years of silence when it comes to studio albums, Nocturnal Breed returned this year with "We Only Came For The Violence", an album containing pure Black/Thrash tracks such as "Choke On Blood", "Nekrohagel" and "War-Metal Engine" which we got to hear that evening, as well as older material such as "Alcoholic Rites" and "Nocturnal Breed".
Something that has always been part of this quartet is the theatrical side of their performance, and that's why on this occasion two girls dressed as nuns appeared on stage, with inverted crosses and gas masks, spilling "blood" on the vocalist. The show went on until the fire alarm sounded again to our surprise, and it was midnight already, so many people decided to leave, while approximately half of the audience was still there once the show was resumed a few minutes later. The band managed to finish their set with "Armageddon Nights" and the cover of Death, "Evil Dead".

DAY 2
As mentioned at the beginning of the review, the second day of the festival was held in two other stages, and the program was made so that they featured bands alternately, so the crowd could see all of them regardless of the stage they were playing, a great decision by the organization.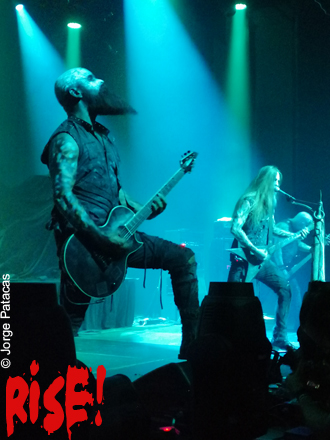 Blodhemn was the first band to appear on stage playing very interesting Black Metal. Their third and latest album to date is called "Mot Ein Evig Ruin", and it was released through Soulseller Records last February, so there were some songs from the same on the set.
Then it was time for Liverum who performed on the second stage; it's a relatively new band that released their debut album "Discover Your Land" in 2017. Comprised of Polish brothers Adrian and Marcin Dzieciol on guitar/vocals and bass respectively, along with Norwegians Andreas Midtgård on guitar and Dimitri Victor Hermansson on drums, the band has influences from Death and Groove Metal with many progressive passages that makes it really interesting. Unfortunately, due to the delay in the beginning of their show, part of it was overlapped with that of the black metallers Mork on the main stage, so the number of attendees was lower at that point.
Mork put on a good show on the Stage 1 of the Kolben Kulturhus. The band, whose lyrics are written in Norwegian, released new material this year under the title of "Det Svarte Juv" through Peaceville Records, which is worth checking out.
The next band on the main stage were the legendary Carpathian Forest, who took the Norwegian scene by storm in 1992 with their demo "Bloodlust and Perversion" even though they were already active for a couple of years under the name Enthrone. Nattefrost (the only original member) and his crew always had an element that made them different from the rest of the bands in the Black Metal scene, and that's the inclusion of topics such as BDSM and dark humor both lyrically and visually, something that we witnessed in this performance as well. Songs like "Rock N 'Roll Glory Hole" speak by themselves, but there was something for everyone, from "Ancient Spirits of the Underworld" to "Likeim" from the latest single released in 2018, to the cover of Angst Skvadron, "Negativitetens Kveletak". On a visual level, we got to see Nattefrost holding an inverted cross, girls wearing gas masks distributing Norwegian flags to the audience (!) and they also invited two guests on stage, Skrotmunn Råtapøl (Likfunn) and Hans Fyrste (ex-Ragnarok, Svarttjern), the latter using a very bizarre outfit which is hard to describe while he made sexual gestures during the two songs in which they provided vocals: "Knokelman" and "Mask of the Slave". They concluded with "The Suicide Song", giving way to the Finns Foreseen on the second stage.
They keep it simple when it comes to staging, only the logo of the band stands behind the drum kit, but nothing else is necessary, since the show they deliver don't even let you breathe. We are talking about chaotic Crossover here, with vocalist Mirko Nummelin screaming and moving around the stage, and a band that displays immense energy. The band has released two studio albums, "Helsinki Savagery" (2014) and "Grave Danger" (2017), so we'll see what they come up with in the future.
Anders Odden has a long history in the Norwegian and international metal scene, having played in a lot of bands, including Celtic Frost and Apoptygma Berzerk, currently playing the guitar in Order and bass in Satyricon. However, Cadaver is his own band, being a pioneer of Death Metal in his country releasing classics such as "Hallucinating Anxiety" (1990) and "…In Pains" (1992). After several splits and reformations with different lineups, Odden eventually decided to reform the project, this time with himself taking care of the vocals and guitars, accompanied by Dirk Verbeuren (Megadeth, ex Soilwork) on drums, recording a new album this year. This was one of the most anticipated shows of the festival since it was the first time the band was going to play in 15 years, this time with Destructhor (Myrkskog, Nordjevel) on guitar and Secthdamon (Myrkskog, Odium, Emperor) on bass as live members. With this amazing lineup nothing could go wrong and it didn't; the band delivered their 100% with a setlist consisting of a selection of tracks from their entire discography, from their latest single, "Circle of Morbidity" to classics like "Hallucinating Anxiety" and "Blurred Visions", ending with the fan-favorite "Decomposed Metal Skin". Brilliant performance from four experienced musicians and good interaction with the audience including some fun comments by Anders.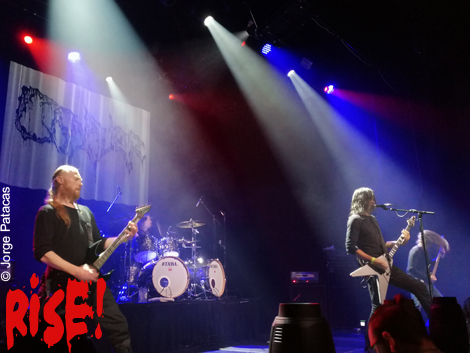 On the second stage, it was time for Turbonecro, whose name very similar to that of the popular Turbonegro is no coincidence, since it's a band formed by some of its ex members. Among them it's vocalist Harald Fossberg, who did vocals on the debut album "Hot Cars and Spent Contraceptives" from 1992, and currently works as a journalist at Aftenposten, one of Norway's leading newspapers, in addition to having written the book "Nyanser av Svart" about the Norwegian Black Metal. They added some punk attitude to the festival with Fossberg himself coming down from the stage, singing face to face to almost every person in the audience, including me.
Coming back to the main stage, it was Mysticum's turn, who were responsible for closing the festival in Kolbotn. Of course we are talking about other veterans of the scene who made a difference with their first album "In the Streams of Inferno" in 1996, where they took an industrial approach to the traditional Black Metal. Prime Evil and Cerastes, both on vocals and guitars, and Dr. Best on bass, took the stage that also included a big screen behind them showing videos from war times, and unleashed a brutal show which featured songs like "Far", "Fist of Satan", "Crypt of Fear" and "All Must End".
In conclusion, a very good festival in an excellent location for those who live in Oslo and its surroundings. It has halls which are ideal for metal concerts, sound according to expectations and very good atmosphere. We wish the best to the organization and hope that Hellbotn keeps growing as it has been doing so far!