Inspired by mythology and folklore, Voluspá was founded by vocalist Sól Geirsdóttir and bassist Stefan Roke in 2012 and now it's a four-piece that also includes Hilde Stenersen on backing vocals and Varg Saastad on guitars and other additional instruments.
This Norwegian folk rock band started out as a studio project and finally took the stage with two great performances at Midgardsblot festival this year. They're currently working on new material and we talked with the band about this as well as their history, the instruments they use and more!
RISE! – When and why did you decide to start with this project?
Voluspá: It was Sol who started the project by herself back in 2007. It was then the songwriting began. Sol later met our bassist Stefan Roke who has been producing and arranging the songs in studio from 2013. Since then, Voluspá has been a studio project – until now.
Sol started this project from a need to express herself musically and artistically through lyrics, melody and style. The need to connect with the past and to create something that later could end up as a music career.
R!: – What's your musical background? Have you been involved in other bands in the past?
V: When it comes to the band, we have different musical backgrounds. Varg is the creator of the neo-folk project Fedrespor and earlier drummer and composer in the black metal band SEKT that was active between 2007 and 2012. Varg has also been involved in other underground music projects that probably will never be released. Stefan has worked as a sound-tech in Demningen studio with Erik Grønner. He has also been involved with the rock band Plinth from Bergen. Sol has classical vocal training as well as traditional folk vocal training (kveding). She attended a folk high school in Voss back in 2007/08 where she began writing several of the songs that we released and developed for the "Trollbunden" release this year.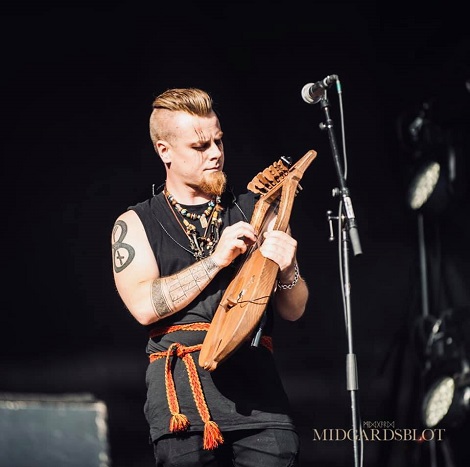 R!: – How did you come up with the name Voluspá? Who had the idea?
V: Voluspá is the prophecy of the seeress which is a name none from the poetic Edda that tells the story of the creation of the world and its foretold end.
The band name was all Sol's idea, she thought it was a good fit for the musical landscape.
R!: – When did you realize you wanted to be in a band?
V: Voluspá has been a studio project ever since 2012 but after we met Varg we were able to fulfill our dream of taking the stage. Performing live is a great passion of ours.
R!: – You had the chance to play twice at Midgardsblot this year, and one of the performances was at the main stage. How was the experience of playing in a festival like this next to the grave mounds of Borre?
V: The experience we had at Midgardsblot was something we will remember for the rest of our lives and we are extremely grateful for how we were received by the audience. We were supposed to play in the great Gilde hall the first day, but only few hours before we got there, the festival asked us to step in for a Black Metal band who could not make it there because they missed a bus or something. So we said YES of course. This was basically our first official Voluspá gig – we think we did the absolutely best we could, and the audience was amazing! Things turned out differently in many ways. We were also supposed to play a more "Folk-rock" show the first day and a complete acoustic one the other day. But since there has been a reconstruction of the line-up lately, we decided to go for a full acoustic show both days! The feedback we got was that our acoustic gigs were a nice break in between all the metal that day. The Borre grave mounds is a very sacred and important place to us and the Norwegian Viking Culture, so the feeling of being home and connected was very present at the moment. We hope to come back to Midgardsblot another year with more band members and a even greater show!
R!: – Sól describes her blog "The Viking Queen" as a modern viking blog written by an ancient soul. In what ways does she feel an ancient soul and what would she like to change the most from the modern era if that was possible?
V: The thing is that Sol is a reincarnated soul. An old soul in a modern world, striving to get most out of life. Life itself is a kingdom and Sol is indeed a queen in her own kingdom. She is a strong and righteous woman – I think that she would want people to be proud of who they are and be less judgmental towards others.
R!: – Tell us some details about the outfits in Voluspá… Do you make everything yourselves?
V: Our stage outfits may vary from time to time – so we don't have any goals of being historically correct – however, we draw inspiration from the Viking age, folklore, and the old norse religion/spirituality. We make most of the outfits ourselves and we do our own makeup / hair and also a lot of the jewelry.
When it comes to details it's all about the setting and the atmosphere we want to convey. We use pearls and silver from Viking markets – fur, tablet weave, linen clothes and leather shoes to perfect it all. We mix ancient instruments with modern ones.
R!: – Could you describe the instruments you used when recording the EP?
V: Back when we recorded the EP, we experimented with piano, guitars, drums and flutes. Later we have incorporated Kravik lyre, Tagelharpa, Goat horn and some alternative percussion. We want to connect with both the future and the past – to tell our story.
R!: – I read you had some challenges when recording your first EP, what are some of the lessons learned from that recording process?
V: It was the first time we had recorded music professionally, so it was a challenge to perfect the sound and to make the music fell right to us. Most young musicians have a really low budget to produce everything and so had we. So everything we have done so far has been a learning process for everyone of us. We always work to do our best and to deliver the best music possible.
R!: – Recently you've released a video for the song "Fimbulvinter" which is part of the new album, right? Where in Norway did you film it?
V: That's right! This was a teaser to show our fans a little bit of what we are doing. Now that Varg has joined the band we are mixing some of his folk elements and style to the project as well. During the writing process we get to know each other better musically and as artist on many levels. We clearly see that magic happens when we all get together and write down ideas.
"Fimbulvinter" was filmed in Østfold Norway. Some different places, but mostly at the Hunn Stone circle graveyard in Fredrikstad and in Rygge – not so far from where we live.
R!: – A proof of concept TV Pilot of "Rayden Valkyrie" was posted online some time ago. What can you tell us about this project? How did you get involved on it?
V: "Raiden Valkyrie" is based on a book series by Stephen Zimmer about a fierce warrior woman. I simply sent in an audition tape for the lead part and ended up getting it. It was quite an adventure, and I would love for the show to get picked up.
R!: – What Viking series or documentaries do you like the most?
V: We actually don't watch TV that much – none of us. But we will say; It does not have to be 100% historically correct to be a good TV show!
R!: – What places viking-related places in Norway would you recommend to visit?
V: First of all the Viking Ship museum, Norsk Folkemuseum and Kulturhistorisk museum. There are many stone ring sites to search for and to visit. We also recommend to see the old stave churches that are inspired by old Norwegian architecture.
R!: – Do you have any other concert dates already scheduled?
V: Not yet! We are focusing on making more material right now. But we will look around for a few gigs to play at summertime 2020.
We all have full time jobs, and we put as much time as possible in our music project.
R!: – What are your plans for the near future?
V: Right now we are working on a special surprise to release this winter – and we are also in writing mode, we are working on a new album.
R!: – Thanks a lot for the interview! Any last words to the readers of Rise!?
V: Thanks a lot for talking to us!
Well, we want to make a promise – and we promise to always deliver our best to our fans!
Lots of love to all our fans out there from the bottom of our heathen hearts!
Best regards!
-Varg and Sol
VOLUSPÁ VIDEOS
"Fimbulvinter" (2019):
https://www.youtube.com/watch?v=pVWikigkGAI
"Voluspá (Live at Midgardsblot)" (2019):