Posteado en
Inicio
el 21 d-03:00 September d-03:00 2019 por RISE!
BEYOND THE GATES 2019 (Bergen, Norway)
August 21-24, 2019
by Jorge Patacas
Beyond The Gates (formerly Hole in the Sky) is one of those festivals that always offer an interesting lineup, especially for those who are into the extreme metal subgenres. It's held in the usually rainy city of Bergen, located in western Norway, which has breathtaking landscapes, in addition to Bryggen, an area next to the harbor with colorful houses that in some cases date from the 18th century, which is on the UNESCO list for World Cultural Heritage sites.
The festival began on Wednesday, August 21 in a small place with very limited capacity called Hulen (The Cave, in Norwegian), which opened in 1969 and has its premises in an old bomb shelter. Imha Tarikat, Ritual Death and the swedes Watain performed there, in front of an audience who sold out the venue and got thrilled by a show that those who were there described with mostly positive comments.
Rise! has been invited to the next three days of the festival, where the venue was USF, which stands for United Sardines Factories, and yes, it is a sardine factory that turned into a concert venue, which has two floors. The first includes the stage, merchandising stands and bars, while on the second floor there's a VIP area with a perfect view of the stage and another bar.
In addition to the live bands, the festival offers extra activities such as listening sessions of new releases both at the Apollon Records record store/bar and at the Galleri Fjalar, Gaahl's art gallery, who welcomed us when we attended the session of the "Seafarer" album by Lindy-Fay Hella, who is known for her work with Wardruna. The album that comes out on September 20 via Ván Records, was produced by herself with Herbrand Larsen and contains nine highly recommended tracks.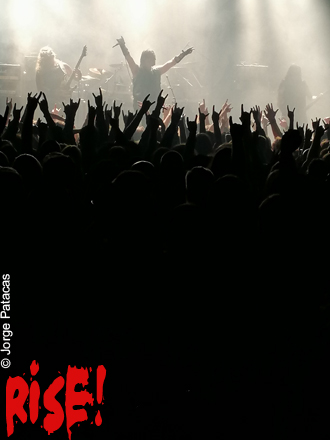 Other listening sessions were the new albums by Solstorm, Asagraum, 1349, Darkend and Costin Chioreanu, and there was also a panel comprised of record label owners, managers, festival promoters, among others, where they discussed the future of The music industry.
The activity in terms of concerts on Thursday began at 7 p.m. with Obliteration, who released their fourth studio album, "Cenotaph Obscure", last year via Indie Recordings. They deliver some good Old School Death Metal, a lot of speed and aggression to start the day.
Svartidauði (Black Death in Icelandic) with their particular Black Metal style was next. They were formed in 2002, but only have two full-length albums released, both with very positive reviews by fans and media. Songs from both albums were performed that night, with raw vocals by Sturla Viðar, killer riffs by Þórir and G.E. and heavy drumming by Magnús, alternating the most aggressive sections with the quieter almost Doomy parts.
Behexen, for their part, delivered a six-song set of pure Black Metal proving that there are quality exponents of this genre in Finland too. They started with "Cave of the Dark Dreams" from their most recent effort "The Poisonous Path" (2016) followed by a journey through their discography playing songs like "Wrathful Dragon Hau-Hra", "By the Blessing of Satan", "Mouth of Leviathan", "My Soul For His Glory" and "Death's Black Light".
A high dose of the most visceral Black Metal came from Marduk, who mercilessly fired bombs like "Panzer Division Marduk", "Baptism By Fire", "Werwolf" and "Throne of Rats" devastating everything in their path. Without major surprises, but fulfilling expectations, the Swedes had a solid performance that makes it clear why they achieved the status they have today on the scene.
Leer más »
Tags:
bergen
,
beyond the gates 2019
,
beyond the gates festival
,
beyond the gates live
,
beyond the gates review
,
norway
,
review bergen norway