Posteado en
Inicio
el 5 d-03:00 February d-03:00 2019 por RISE!
MASTODON / KVELERTAK / MUTOID MAN at Oslo Spektrum Arena (Oslo, Norway)
Sunday, February 3, 2019
by Jorge Patacas
Less than a year and a half has passed since the last performance of the North American band Mastodon in Norwegian soil. At that time, November 2017, the band performed at the Sentrum Scene, a venue located in Oslo downtown with capacity for 1750 people, where, by the way, the Brazilians Sepultura played on their "Chaos A.D." tour during their glory days in October 1993. This time the concert promoters decided to go for a bigger place, and that's how Mastodon would perform at the great Oslo Spektrum Arena, opened in December 1990 with a capacity for 9700 attendees. The recent Slayer, Anthrax, Lamb of God and Obituary concert in Oslo as part of their European tour was held here, as well as renowned bands of different genres from Rammstein to A-ha or the Red Hot Chili Peppers, so this gives you an idea of what's Mastodon position in the scene today, and we can confirm that considering that the venue was almost full.
Two more bands are part of their European tour, fellow countrymen Mutoid Man and the Norwegians Kvelertak who have got people talking about their musical proposal for some years now.
With a perfect organization by Live Nation, the doors were opened as expected at 7:00 p.m., and twenty minutes later, Mutoid Man began his half-hour set. The trio formed in 2012 by Stephen Brodsky (Cave In) on voice and guitar, Nick Cageao on bass and Ben Koller (Converge) on drums, showed all their abilities through nine songs from their two studio albums, "Bleeder" (2015) and "War Moans" (2017), as well as a tune ("Gnarcissist") from their debut EP "Helium Head" (2013).
The first songs were played in a flash one after another almost with no breath in between until they talked to the audience making some jokes too. Musically they are quite difficult to categorize, but you can notice influences from Hardcore Punk, Heavy Metal, Hard Rock and certain progressive hints. Their discharge of energy on stage left nothing but an excellent impression on the audience, and this way they left everything ready for Kvelertak, who on this date acted as a local band.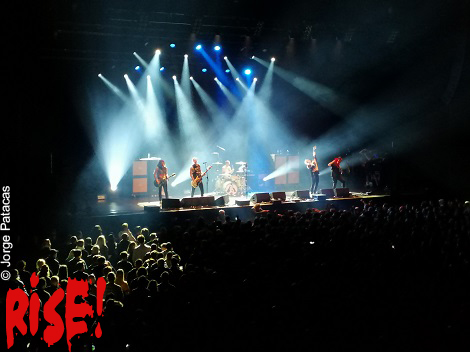 Personally, I had the opportunity to see them before playing in one of the main stages of the Wacken Open Air 2015 with their former vocalist Erlend Hjelvik. However, this performance at the Spektrum Arena was far superior. Perhaps an indoors venue like this fits them better, having the chance to be closer to the audience, since, despite having a much greater capacity than an underground club, there is less distance between the stage and the first row compared to the Wacken Open Air.
With three guitars played by Bjarte Lund Rolland, Vidar Landa and Maciek Ofstad, plus Marvin Nygaard's bass and Kjetil Gjermundrød's drums, the band began their show with "Åpenbaring", and the new vocalist Ivar Nikolaisen appeared on stage. Although he joined in July last year, it seems he had been in the band from the beginning. The dominance on stage and the energy displayed by the vocalist of the punk band The Good, The Bad and The Zugly, show why the Stavanger band chose him when looking for new vocalist. He did not stop moving from one side to the other during the whole show, cheering the audience up, doing headbanging, going down to sing along with those who were in the front rows on several occasions, an attitude that also took the bassist Marvin Nygaard in one opportunity, even doing crowdsurfing while he was still playing.
Some of their most catchy songs were part of the setlist, such as "Bruane Brenn" (the riff sticks in your mind for hours and it gives you goose bumps when you hear it live!), "1985", "Blodtørst" and the ending with "Kvelertak", one of their classics at this point. This sextet not only has very direct songs, but also that "in your face" attitude that is missed so much on the big bands these days. There are influences of various genres on their music, from Hard Rock and Punk with inspiration on their countrymen Turbonegro, to Heavy and certain hints of Black Metal (that night this was perceived in songs like "Nekroskop" or "Mjød"), but more than anything what they offer is a great Rock N' Roll show. Simply brilliant!
Leer más »
Tags:
kvelertak
,
mastodon
,
mastodon oslo
,
mastodon oslo review
,
mastodon review
,
mutoid man