Posteado en
Inicio
el 21 d-03:00 September d-03:00 2019 por RISE!
HELLBOTN METALFEST 2019 (Kolbotn, Norway)
August 30-31, 2019
by Jorge Patacas
Hellbotn Metalfest started out in 2014 in the city of Kolbotn located 20 minutes from Oslo, known for being the hometown of bands like Darkthrone. Since the beginning, the organizers had the idea of creating a festival for local bands, adding bigger names from the Norwegian scene year after year. This edition was held once again at Kolben Kulturhus which, as the name suggests, is a cultural center where, among other things, there are concert halls. Previously they used only the small stage, but in 2019 only the first day had concerts in that room, while for the second stage they added the larger main stage and another hall as a secondary stage.
DAY 1
It all started on Friday, August 30th with sold out tickets, where four bands were part of the lineup. Filthdigger straight from the Norwegian capital city were the first to appear on stage, and they had no mercy, attacking from the beginning with their old school Death Metal full of power and energy. Unfortunately, the fire alarm went on during their performance due to the smoke machine installed on the stage, so the venue had to be evacuated for about fifteen minutes until we were told to re-enter, and so the band was able to resume their set that featured songs from their only album album so far, "Damned by the Living Dead" (2016).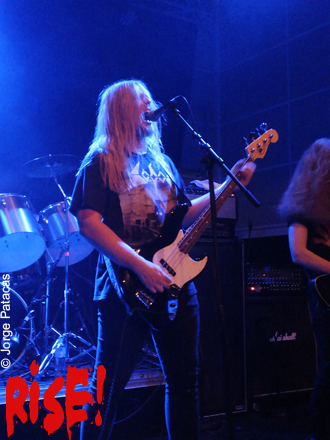 Incinerator was the next group on stage, with members of Austrian, Bulgarian and Norwegian origin, but based in Kolbotn and Oppegård. They have just released their debut EP "Awakened by Evil" on cassette through the local label Snake Oil Kassettforlag, so they played songs included in it, with "Angel Slayer" being a highlight. Very interesting Black/Thrash band that is worth watching live.
Another band that came out of Kolbotn is Nekromantheon, who played next. Among its ranks are Arild Myren Torp (guitar/vocals) and Sindre Solem (bass/vocals), who also share duties in Obliteration, but unlike their other project, Nekromantheon have more Thrash influences, although the old school flame is there too. Excellent performance with Solem really into the show encouraging the audience to scream at all times.
After five years of silence when it comes to studio albums, Nocturnal Breed returned this year with "We Only Came For The Violence", an album containing pure Black/Thrash tracks such as "Choke On Blood", "Nekrohagel" and "War-Metal Engine" which we got to hear that evening, as well as older material such as "Alcoholic Rites" and "Nocturnal Breed".
Something that has always been part of this quartet is the theatrical side of their performance, and that's why on this occasion two girls dressed as nuns appeared on stage, with inverted crosses and gas masks, spilling "blood" on the vocalist. The show went on until the fire alarm sounded again to our surprise, and it was midnight already, so many people decided to leave, while approximately half of the audience was still there once the show was resumed a few minutes later. The band managed to finish their set with "Armageddon Nights" and the cover of Death, "Evil Dead".
Leer más »
Tags:
hellbotn metal review
,
hellbotn metalfest
,
hellbotn metalfest 2019
,
kolbotn
,
live review hellbotn
,
norway
,
review hellbotn