Posteado en
Inicio
el 20 d-03:00 agosto d-03:00 2008 por RISE!
SOUND AND FURY
"Sound And Fury"
(Rebel Youth Records)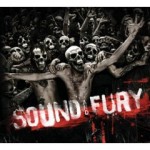 Tal vez lo más destacable de Sound And Fury, banda de Notario, Canadá, es la crudeza de sus canciones.
Estas son bastante punk limitando el glam punk y hard rock. Esto se debe a que hay riffs y solos de guitarra (algo poco común dentro del punk) que hace que su música sea una fusión de estos estilos.
Me gusta mucho el arte que acompaña este disco. Este viene en formato de caja de cartón y si aprecian verán un montón de personas con la cabeza bien pelada (ja!).
Para los amantes del skate, la banda aparte de una gira que está haciendo por USA y Canadá, junto a Airbourne, se está presentando en varios skate parks en el país del tío Sam.
Para los que necesiten despabilarse a las mañanas y no quieran convertirse en una lata de energizante y cafeína, les recomiendo este disco.
Mas info: www.soundandfuryrocks.com
Lucas Gordon.
Tags:
cd reviews metal rise!
,
rebel youth records
,
sound and fury
,
sound and fury debut
,
sound and fury review
,
sound and fury review rise!