Posteado en
Inicio
el 12 d-03:00 January d-03:00 2020 por RISE!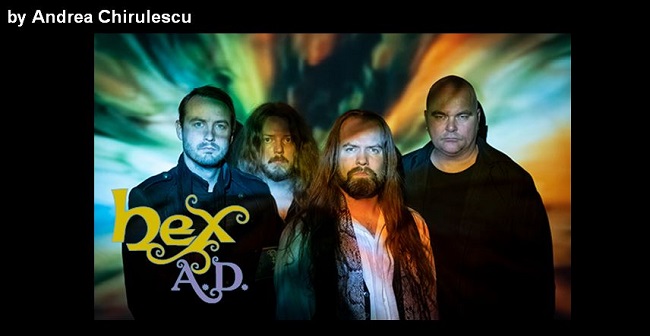 From Eternal Terror Webzine (https://www.eternal-terror.com):
Saturday, 7th of December, we were invited for a listening session at Kniven bar in Oslo where we got the chance to sit down and listen to the upcoming release by the Norwegian riff monster act HEX A.D., named "Astro Tongue in the Electric Garden" and out in the beginning of 2020.
Today, December 13th, is also the day when the band releases the first single from the album, "Astro Tongue". Hopefully this first insight into the upcoming release will transpose you in the same kind of landscape that we were taken to for the whole duration of the listening session: a very pleasant and joyful, yet heavy and intense journey back to the good old days of hammond organ and upbeat riff bonanza, while still anchoring you in the present times of a more daring attempt at combining elements and rhythms.
Of course, the one time listening through the album is not enough to fully label it into one of my two categories: music I like vs. music I don't like. So all I know is that it was really intense and pleasant and I'm looking forward to get my hands on it and digest it thoroughly. It felt like a nicely balanced overall composition, less doomy that the expectations built based on the previous material heard from the band. And luckily, after the audition, we (Jorge from http://risemetal.com and me) had the chance to sit down with vocalist and main composer Henrik Kaupang AKA Rick Hagan and get a lot of cool info about the album itself, the guests and the band's history. A transcription of the chat is available underneath the video of the new single.
Me: Thank you for having this event organized for us.
Henrik Kaupang: It was our manager's idea. We thought it would be really nice to have an occasion to play the album and show it to people we thought might be interested in it.
Me: Are you proud about the album. How do you feel about it?
H.K.: The album is a huge departure for us because this band started as a solo project. I was playing in a band back then and we got a deal with Chris Tsangarides in England (Judas Priest, Gary Moore, Thin Lizzy) and he said 'I want you guys to come England and make an album with me'. It sounded excellent. It turns out the two guys I was playing with at the time didn't want to join me, saying we don't have any songs. I said we'd write the songs, so I ended up going to England alone, recording an album in ten days, on my own, all the instruments. That is the first Hex A.D. album, Chris Tsangarides mixing and producing and I'm playing everything. It turned out cool, maybe a bit naive and a bit raw, no keys, no nothing, just guitar, bass, drums. I really liked it, it got great reviews when it was released in 2014. Around that time I went to the audition for Joe Lynn Turner, as I am a session drummer, and that's where I met Magnus who now plays the keyboards and organ with us. Neither of us got the gig, but we met and we bonded. When I decided to make the second Hex A.D. album I invited Magnus to join me, and so we went to England. He played the organ, a big old Hammond organ that hadn't been used in fifteen years, we had to start it five times and only parts of the keys were working. Good times.
Anyway, Hex A.D. turned into Magnus and me in the studio and then we used my brother as a session drummer and a bass player with whom I've been playing for twenty years, and now we actually had a band. We got in touch with Sverre, our manager, who also runs the record label and we talked about making a new album. So last year we released "Netherworld Triumphant", but that's just me and Magnus and in a way it felt like we needed to start involving the other guys more. So on this new album, everyone contributes.
My brother is now the permanent drummer in the band, but our styles are very different. I think I am more progressive, he is more raw. We have chosen which songs each of us played. And as Chris passed away, he didn't produce this album, I did it instead. And I was kinda calling the shots, deciding which songs is more typical of each of us and split the drum jobs. Are plays all the bass parts, I didn't play any. So this is a band efoort to which everyone has contributed. I've still written all the songs, as from the start it was my idea, my vision on what Hex A.D. it's gonna be. But the great thing about working with such fantastic musicians is that you can write something and they will take it to another level. That's so exciting. So I am very proud of this album and the way it turned out with everyone contributing. So this is really the long answer.
But I also have to say that this is definitely less doomy than the other three releases.
Leer más »
Tags:
eternal terror webzine
,
hex ad
,
hex ad interview
,
interview henrik kaupang