Posteado en
Inicio
el 18 d-03:00 mayo d-03:00 2008 por RISE!
JUSTICE DEPARTMENT
"Daily Massacre"
(New Eden Records)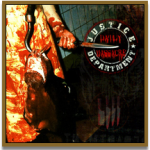 El sello norteamericano New Eden Records nos acerca otra de sus bandas, en este caso, una banda española llamada Justice Department, quienes editaron su primer larga duración titulado "Daily Massacre".
Al igual que el resto de las bandas de este sello, estos españoles pretenden difundir mensajes a favor de la liberación animal no solo a través de sus letras, sino también en su arte de tapa y booklet donde aparecen imágenes de animales torturados.
Si bien "Daily Massacre" fue lanzado durante el año pasado, los temas incluídos ya habían sido editados previamente en los dos primeros demos de la banda, "Deshumanización" (2001) y "Behind The Walls Of The Slaughterhouse" (2002), con la diferencia de que aquí las versiones son re-masterizadas.
Death Metal, Hardcore y Crust conviven en los catorce temas que componen este trabajo, los cuales son interpretados completamente en español con bastante crudeza.
Por más info: http://www.myspace.com/justicedepartment
Jorge Patacas.
Tags:
crust latin
,
daily massacre review
,
death metal review
,
hardcore latino
,
hardcore vegan
,
justice department reviews
,
metal en español
,
metal latino
,
new eden records
,
rise
,
rise! metal e-zine