Posteado en
Inicio
el 19 d-03:00 January d-03:00 2020 por RISE!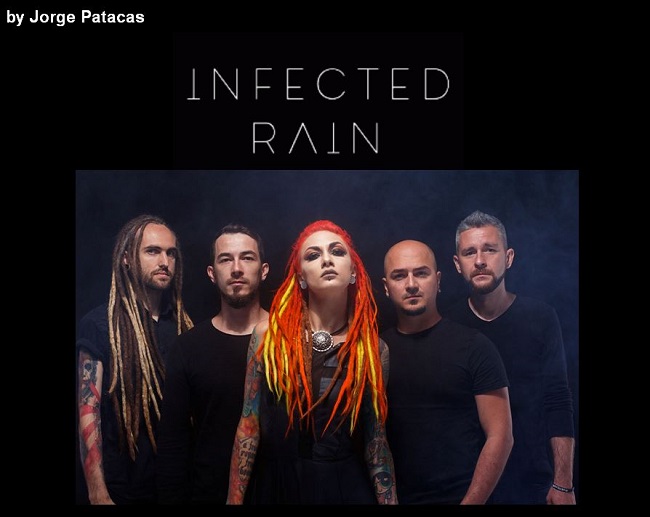 Coming from Moldova, Infected Rain has been around since 2008 and recently signed a contract with Napalm Records to release their fourth album "Endorphin" that came out in 2019. Just hours before their first show in Norway, we got the chance to interview their vocalist Lena Scissorhands (whose real name is Elena Cataraga) about the new material, going in depth on some of the lyrics, their influences, social media and more!
RISE!: – Let's talk about the latest album, "Endorphin", that's an interesting title, since it involves emotions, we feel good when they're released through different activities. And I think it's a very important topic specially these days where there are records of people suffering from anxiety and depression. Did you think of it considering this as a general issue or you just wanted to share your own personal feelings at the time you were writing the album?
Lena Scissorhands: It was kind of both, to be honest. This whole album is very unique because of how emotional and personal it is. All of the songs I've written so far were very personal and they were about what I've been through or what's going on in my life, but this one in particular is different because I was experiencing very new feelings and situations that I was never prepared for, and it was pretty depressing for me and not very easy times for sure.
We thought about this name, first of all, because of how it protects our body. Endorphins were discovered after some experiment with electricity, after pain. Our body releases endorphins to calm us down, to make us happier and protect us from that pain. So that's why we thought it was perfect, because of all the themes on the songs of this album.
Leer más »
Tags:
infected rain
,
infected rain interview
,
infected rain lena
,
lena scissorhands
,
lena scissorhands infected rain
,
lena scissorhands interview
,
passerby
,
the earth mantra