Posteado en
Inicio
el 23 d-03:00 March d-03:00 2019 por RISE!
MICHALE GRAVES at John Dee (Oslo, Norway)
Tuesday, March 5, 2019
by Jorge Patacas
Michael Emanuel, better known by his stage name Michale Graves, managed to make a name for himself worldwide after joining the legendary Misfits in 1995 when he was only twenty years old. Although his time as vocalist for the New Jersey band finished in 2000, his presence revitalized the band at the time with two studio albums, "American Psycho" (1997) and "Famous Monsters" (1999), which became classics, in addition to the live album "Evillive II" (1998). After that, Graves was involved in different projects including a recent collaboration with the legendary Marky Ramone, as well as releasing solo material.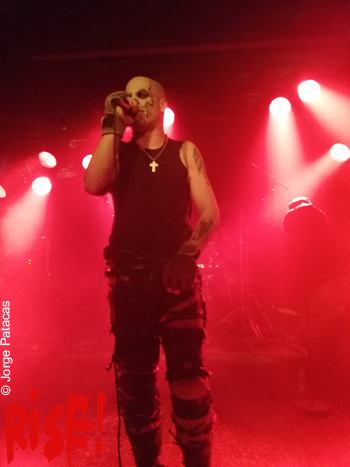 In this long tour that Graves and his band are doing across the European continent, the vocalist presents some tracks from his solo career as part of the setlist, but the focus is on Misfits, so it was a great opportunity to witness again or see these songs live for the first time, depending on the case. There were people of all ages, from old school fans who are already in their fifties to those who are just turning 20, including some with classic punk aesthetics, but also several guys with metal t-shirts, especially of Black Metal bands.
There were no opening bands on this occasion, so the lights went out around 20:30, and the musicians began to appear on stage, Graves being the last to appear with his traditional make up which was consistent to what would be the performance of that night. They started with "Bedlam" from his album of the same name released in 2016, followed by the Misfits classic, "American Psycho", with its heavy riffs and catchy chorus that made everyone vibrate.
At one point, there was a flaw in the Graves microphone after he threw the support, so while looking for another, the vocalist began playing with the audience and the band made jokes about the issue, perfectly mastering an unexpected situation. From there, the general atmosphere improved substantially in terms of audience response and also when it comes to the band, especially Graves himself was much more into the show after this technical issue. Later he referred to the weariness of the tour indicating that this was the show number 57, but despite that, he gave it all, and the energy displayed in songs like "Saturday Night", "Shining" or "Descending Angel" caused a great ovation.
Leer más »
Tags:
horror punk
,
live review michale graves
,
metal
,
metal webzine
,
michale graves european tour
,
michale graves norway
,
michale graves review oslo
,
misfits live oslo review
,
punk
,
review john dee michale graves