Posteado en
Inicio
el 23 d-03:00 March d-03:00 2019 por RISE!
PESTILENCE at Blå (Oslo, Norway)
Special Guests: CARNOSUS – BLEEDING GODS
Thursday, March 7, 2019
by Jorge Patacas
Having the chance to see a legendary Dutch Death Metal band like Pestilence is not something that happens everyday. Their first albums contributed with a technical approach to a scene that was having a great impact worldwide, in the early 90's. On this tour, thirty years after the release of their second album, the unforgettable "Consuming Impulse", the band is playing it in its entirety to the delight of their most hardcore fans.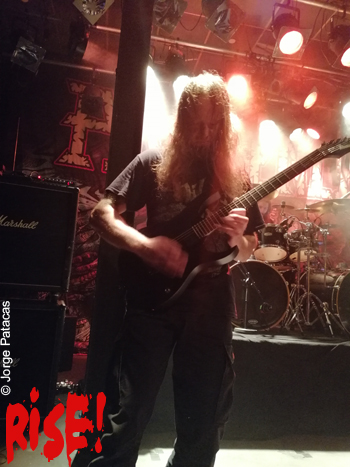 It was a cold Thursday night in the Norwegian capital, but inside Blå, the venue chosen for the show, the public was eager to hear good Old School Death Metal. After checking the merch stands of the three bands, we approached the stage.
The group responsible for opening the night was Carnosus, from Örebro, Sweden, with a style within Death Metal standards with melodic elements, although they don't sound like the Gothenburg Melodeath bands or like the traditional Death of the historical bands from Stockholm. The quintet was formed in 2011 and has an EP entitled "The Universal Culmination" (2016) as well as the singles "Lost to Funereal Desires" (2017) and "Subjected to Cadaverous Defilement" (2018). Although the band is still very underground, they have what it takes to get bigger within the scene.
Then it was the turn for the Dutch band Bleeding Gods, who last year released their second album "Dodekathlon", first one via Nuclear Blast, receiving very good reviews of it. Both in the musical and aesthetic aspect, the band has been inspired by the Symphonic Black Metal, although they also include Death Metal in their sound with their fast-paced riffs close to Thrash sometimes, while the lyrics are about wars and ancestral gods, being the mentioned record of 2018 inspired by Greek mythology. While there was no song that has stood out from the rest in their performance, what caught the attention of the audience was mainly the solos by the guitarist Ramon Ploeg, the harsh vocals of Mark Huisman, and the atmospheric layers created by the keyboardist David Gutierrez Rojas.
With the guitarist and vocalist Patrick Mameli as the only original member, the legendary Pestilence came out to destroy the venue with "Dehydrated" followed by the rest of the tracks of the mentioned album "Consuming Impulse", which contains classics such as "Out of the Body" and "Reduced to Ashes". Even though there was not much moshpit, the crowd responded in a very positive way even asking for songs; in fact someone requested the song "Before the Penance" from their demo "The Penance" (1987), to which the leader of the band replied that it was not possible that night, but he appreciated his words. This shows how intimate the concert was and the very good interaction between bands and audience in a small place like Blå.
Leer más »
Tags:
pestilence blå
,
pestilence live review
,
pestilence norway
,
pestilence oslo
,
pestilence review oslo