Posteado en
Inicio
el 26 d-03:00 December d-03:00 2018 por RISE!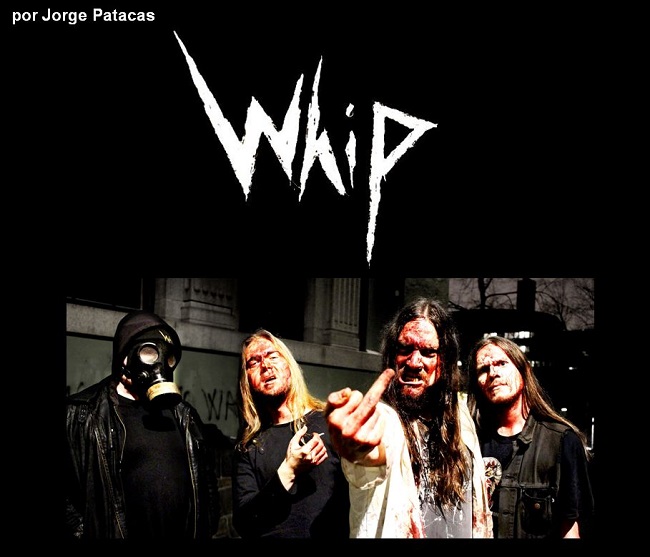 When we think of Norway in musical terms, Black Metal is the first genre that comes to our minds. However, Whip is a Grindcore-based band which turned twenty in the current year 2018. After several demos and EPs, they finally released their debut album, "Digitus Impudicus" in 2013, followed by the "Repulsion and Disorder" EP which came out three years later, and currently they're working on their second LP. The current four-piece lineup has invited RISE! to one of their rehearsals before their twentieth anniversary show and this resulted in a very funny and interesting interview that you can read below.
RISE!: – The band was founded in 1998, so you Sturt (Jens B. Johansen) were a teenager back then. How was it all at the time? Was it just a high school joke band and then it got more serious or how was the process?
Sturt: Back then I was living in Brønnøysund, in the middle of Norway. We had a few other bands, some serious Black Metal kind of stuff, and one summer we were only two people who liked Metal in all the city. That was me and another guy. He played drums and I played guitar and bass, so we played around a bit, but every summer he went to Finland for holidays because his mother was from Oulu, Finland, and one summer he came home and discovered "Rapture" album by Impaled Nazarene, that was summer of '98. He said "we have to start this Punk-inspired Metal band!", so he had four or five songs and I made four or five songs and we recorded our first demo in summer. So Whip started as a burning desire for the other guy in Whip to play some Punk.
R!: – After your second demo released in 2000, you've been inactive until 2005, what happened at the time and what have you been doing during that period?
S: After our first demo in '98, I moved to Oslo in '99, I had to go to school and the other guy in Whip, Jonny, he wasn't working or anything so he just moved to Oslo too. So he was living here for about half a year, then he moved back to Brønnøysund. It was just the two of us, so when he moved back the band was put in pause. Then he moved to Finland, then he moved back to Brønnøysund, then he moved to California. So a few years later, in 2005, I started getting some members from other projects, so I asked him if I could continue this band without him and he said "Yeah, sure, but just don't record any of the old demo songs".
Leer más »
Tags:
raatten
,
whip
,
whip grind
,
whip grindcore
,
whip interview
,
whip interview rise
,
whip norge
,
whip norway