BLOT
"Howl from the North"
(Burning Skull Records)
by Jorge Patacas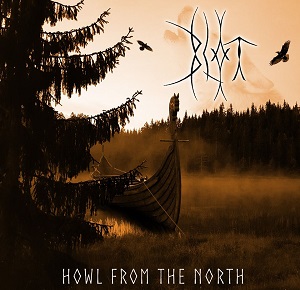 Five years after their debut album, "Ilddyrking", the Norwegian Black Metal band Blot returns with "Howl from the North". For those who are not familiar with them, they were formed in 2007 in the southern city of Kristiansand and their lineup consists of Jan Åge Lindeland (vocals), Bent Orstad (lead guitar), Ruben Gentekos (rhythm guitar/backing vocals) and Stig Reinhardsten (drums) with the addition of Vald (bass/backing vocals live).
The album starts with one of the best tracks, "Taakens Ulmende Hyl", which contains amazing riffs that put the listener right in the mood and asking for more.
"I Takt Med Fanden" has more folk/viking vibes on the general structure. That's not a coincidence, since their songwriting is heavily inspired by folklore, history and nature. This can be noticed even more on tracks such as "Scales of Ancient Stride" and "Howl from the North", where the melodies are perfectly combined with the overall aggression. Influences by the likes of Taake, Bathory, Windir and the mighty Dissection can be heard here and there throughout the 7-track release, but still Blot has managed to develop their own identity and that makes the whole experience much better. There's quality and skills here.
"Howl from the North" certainly has all the elements to make Blot reach the larger audiences they deserve.
Check out their lyric video for the title track!