Posteado en
Inicio
el 21 d-03:00 September d-03:00 2019 por RISE!
AGNOSTIC FRONT at Parkteatret (Oslo, Norway)
Special Guests: WEIGHT – KNUSTE RUTER
Tuesday, August 27, 2019
by Jorge Patacas
Celebrating 35 years of their debut album "Victim in Pain", the New York Hardcore pioneers Agnostic Front arrived in Norway after eleven years, so it was a perfect opportunity to see them live once again on that Tuesday night.
The first of the two opening bands started their show at 7:30 p.m., exactly as it was announced. It was Weight, a new band from Oslo that has members who are well-known in the scene for their work with other local bands. Their sound is based on the New York Hardcore of the late '80s in the style of Cro-Mags, so it was well received by the audience.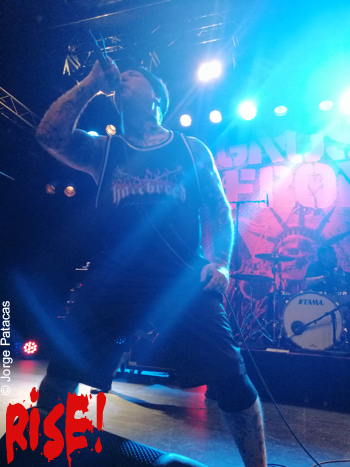 At 8:15 p.m. with more attendees on the venue already, the second and last warm up act took the stage. Knuste Ruter is a Hardcore Punk outfit with vast experience in the Norwegian scene, and it has members of Freedumb, Negativ, Summon the Crows, among other bands. They have been playing live for over ten years now and tonight they had the opportunity to play just before one of the most important bands of the genre. They are currently working on new studio material, but this time they played songs from their previous records. Thirty minutes were enough to leave the audience satisfied, so now everything was ready the New York legends.
After half an hour wait which included some soundchecks by drummer Pokey Mo, the legendary Vinnie Stigma entered the stage and the audience welcomed him energetically. He was followed by the rest of the band consisting of the aforementioned Pockey Mo behind the drum kit, Craig Silverman on guitar, Mike Gallo on bass and another legend of the genre, Roger Miret on vocals. By the way, the documentary "The Godfathers of Hardcore" was released, which revolves around the life of Miret and Stigma.
If there's something that characterizes an Agnostic Front show, it's the energy emerging from the stage, and this occurs from the first to the last minute. Since the start with "The Eliminator" and "Dead To Me", the intensity was 100%, with Miret asking for a circle pit and Stigma who deserves a separate article about him. The guitarist is the definition of personified attitude; At 63, he is constantly moving on the stage, encouraging the audience to shout and doing anything necessary not to be just another show, but a true pure Hardcore party where the crowd participates actively.
Leer más »
Tags:
agnostic front live review
,
agnostic front norway
,
agnostic front oslo review
,
agnostic front review
,
agnostic front victim in pain