AGNOSTIC FRONT at SALT (Oslo, Norway)
Opening acts: CLAIMSTAKER – THE WHALERS
Wednesday, June 29, 2022
by Jorge Patacas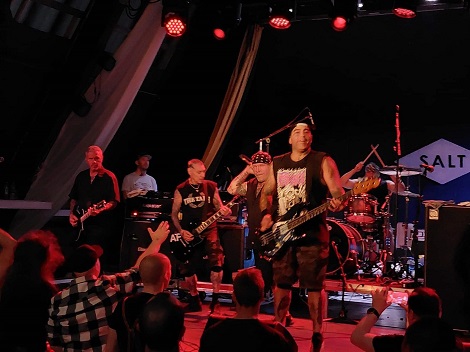 As part of their European tour 2022, the Godfathers of New York Hardcore, Agnostic Front, returned to Norway after three years thanks to Radar Booking. This time the show was at SALT, a cultural arena located next to the Oslo fjord that has six stages, six saunas and several serving areas. When entering the indoors area where the show was going to happen, it was a surprise to see that there was not that many people, but that would make it more intimate then.
The doors opened at 19:00, but it wasn't until 20:30 that the first warm-up act took the stage. This was a new band from Oslo called Claimstaker which is actually formed by the members of Timeworn that already had a name in the underground scene. In April they released a debut album called "Bury Us in Shadows" with this new project and they're now promoting it. Their music can be described as a blend of sludge metal and hardcore, but those are not the only elements involved there. Their vocalist joined the audience at some point screaming around and the band got a very good response. We'll see what their next steps are.
Then it was time for the Oslo-based Oi! trio The Whalers who have been around since 1994 and it's probably one of the few remaining bands from that subgenre in the city. Punk Rock with Norwegian lyrics that their fans clearly enjoyed.
Agnostic Front finally went on stage around 22:30 with their new drummer Danny Lamagna who replaced Pokey Mo. Lamagna has previously worked with bands like Sworn Enemy and Suicide City, so he has experience not only in the hardcore scene, but metalcore and punk rock as well.
As soon as they began playing, the first thing we noticed is that the main microphone was too low and we could barely hear what Roger Miret was singing. He noticed the same and asked to turn up the volume a few minutes later, so they fixed the issue, fortunately.
Most of their songs are short, so usually they can play many songs from their catalog in one hour, and that's what they did this time as well. There were some tunes from their latest album "Get Loud!" (2019), where "Urban Decay" was the one that worked best in the audience, but of course the setlist was a celebration from all eras. Early on they played "A Mi Manera" and as it happened last time, just a couple of us were able to sing the lyrics since our native tongue is Spanish, but that was the only one with Spanish lyrics that evening. Then we had classics from the last decade like "My Life My Way" from the album of the same name (2011) and "Old New York" from "The American Dream Died" (2015). "For My Family" was one of the highlights, definitely a fan-favorite, with everybody singing it out loud in unity.

The iconic guitar player Vinnie Stigma, who is already 66 years old (believe it or not!), joined the audience on "Friend or Foe" and people started a circle pit around him. The same happened with the bass player Mike Gallo later in the concert. Something typical of the hardcore scene is this kind of interaction between the bands and the audience, they're united as one.
The vocalist Roger Miret has been diagnosed with cancer in early 2021, so it wasn't an easy year for him. A funding campaign was launched at the time to help him pay for his medical bills, and fortunately, he announced his cancer was in remission and now the band is playing every single day in a different city. Sounds insane, but it seems nothing can stop the hardcore family. Miret is still under doctor care though, so he couldn't join the audience in a circle pit as the other guys in the band, but at least he was able to tour again and we're all glad to see he's doing better.
A couple of songs from their "Another Voice" album (2004) were included as well in the form of "All Is Not Forgotten" and "Peace", which at the time marked their comeback to a more metal sound. That album was co-produced by Jamey Jasta from Hatebreed and it was their first album with Nuclear Blast Records.
After the Iron Cross cover, "Crucified", it was time for Miret to take a break, so Stigma took over the vocal duties for "Pauly The Dog" (this was fun to see live!) and "Power" from "Victim in Pain" (1984). Miret took the microphone again and the party kept going with their classic "Gotta Go" and it was great as usual, although Stigma's guitar solo could not be heard at all, at least from where I was standing. That was a pity, but other than that, everything went fine and the audience was in ecstasy.
The vocalist was going to turn 58 years old the following day, so the crowd sang happy birthday to him. "Police State", "Addiction" and the Ramones cover, "Blitzkrieg Bop", were the last three songs before they left the stage. According to the setlist, that was going to be the end of the show, but people were asking for more and they returned for an encore with "Something's Gotta Give" and "Believe". What a great way to finish the gig!
Photos by: Lene Vaagland