Posteado en
Inicio
el 19 d-03:00 January d-03:00 2020 por RISE!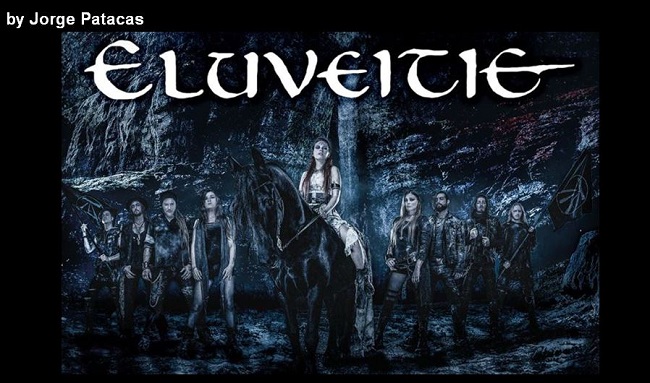 Eluveitie, Lacuna Coil and Infected Rain joined forces for a European tour by the end of 2019. One of their last stops was Oslo, so some hours before the show, we met their vocalist Fabienne Erni, who joined the band in 2017 and already recorded two albums with them, "Evocation II – Pantheon" (2017) and the recently released "Ategnatos" (2019). We discussed all things Eluveitie but also her other projects, her past, childhood, dreams and a lot more!
RISE!: – I guess you haven't been in such a long tour before. How are you dealing with the life on the road?
Fabienne Erni: It's going really, really well. I mean, now we're actually on our fourth last show and I had my ups and downs, you know? I was a bit scared like "ok, it's gonna be winter, so am I going to catch a cold?", and then if I would, how do I cope with it when I have to sing everyday, and all of that. But it went really well, I was just a little bit sick, but still it was fine and now for me the tour could go on for two weeks or so, I have energy and I really enjoy it, specially being here in the north. I'm a huge Scandinavian fan and I took a walk today, the sun was out and it was just so good! (laughs)
R!: – You were lucky actually because the sun hasn't been out in a long time before today (laughs).
FE: Really?! We were so lucky then, I think we had like two hours of sun now, and we took a walk, went to the sea, the castle thing and the Christmas market of course. This is what gives me energy too, just taking these walks, see different cities, catching some sun because otherwise when you sit in the club all day long, that doesn't work. So we're really having a good time and I'm gonna be a bit sad because it's gonna be over and it will be a huge change because you're surrounded by so many people all the time and at home you're just alone again or with your family or friends, and that's it.
Leer más »
Tags:
ategnatos
,
eluveitie
,
fabienne erni
,
interview eluveitie
,
metal
,
vocalist eluveitie