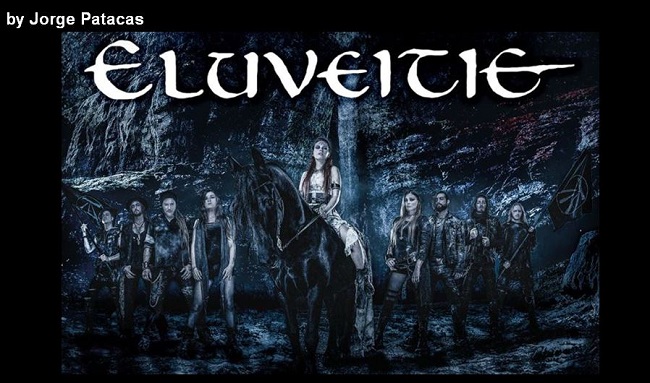 Eluveitie, Lacuna Coil and Infected Rain joined forces for a European tour by the end of 2019. One of their last stops was Oslo, so some hours before the show, we met their vocalist Fabienne Erni, who joined the band in 2017 and already recorded two albums with them, "Evocation II – Pantheon" (2017) and the recently released "Ategnatos" (2019). We discussed all things Eluveitie but also her other projects, her past, childhood, dreams and a lot more!
RISE!: – I guess you haven't been in such a long tour before. How are you dealing with the life on the road?
Fabienne Erni: It's going really, really well. I mean, now we're actually on our fourth last show and I had my ups and downs, you know? I was a bit scared like "ok, it's gonna be winter, so am I going to catch a cold?", and then if I would, how do I cope with it when I have to sing everyday, and all of that. But it went really well, I was just a little bit sick, but still it was fine and now for me the tour could go on for two weeks or so, I have energy and I really enjoy it, specially being here in the north. I'm a huge Scandinavian fan and I took a walk today, the sun was out and it was just so good! (laughs)
R!: – You were lucky actually because the sun hasn't been out in a long time before today (laughs).
FE: Really?! We were so lucky then, I think we had like two hours of sun now, and we took a walk, went to the sea, the castle thing and the Christmas market of course. This is what gives me energy too, just taking these walks, see different cities, catching some sun because otherwise when you sit in the club all day long, that doesn't work. So we're really having a good time and I'm gonna be a bit sad because it's gonna be over and it will be a huge change because you're surrounded by so many people all the time and at home you're just alone again or with your family or friends, and that's it.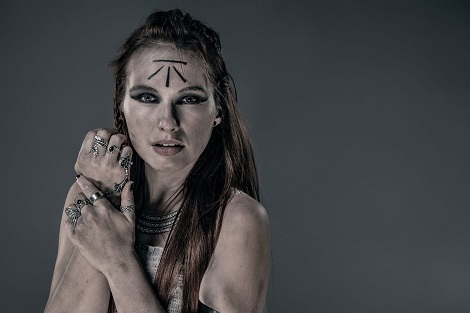 R!: – But then it starts again next year (laughs)
FE: Yes, it will start again, so that's good (laughs)
R!: – You joined the band two years ago and already recorded two albums with them, was it different for you to record this new album comparing to the previous one?
FE: Yes, it was different. For me it was mostly as well when I recorded "Evocation II", the acoustic album, I'd never recorded in such a big studio. I haven't had that much experience and had a lot of respect for Tommy Vetterli, the producer, and I had no idea how it would go. I just had the feeling of not knowing him and how it would go because it was my very first recording with Eluveitie, so I was like "am I really able to do it? Is it gonna be good enough?", so I had all these thoughts in my mind. On the second album, I knew already that it was going to be good, and I was looking forward to it. Of course I was nervous, but now I know Tommy and it's great to work with him and I know now how to work with Chrigel (Glanzmann, vocalist/guitarist) and everybody. So the overall feeling was different for me, but it was also different singing wise and music wise because in "Evocation II" I used more of the Gaulish, the ancient Celtic language, so that was a bit different. I was surprised myself how different it feels and how different it sounds, because the vowels in Gaulish are very open and English is just different. Nothing is better or worse, but it made a difference also with the English pronunciation and stuff I had to check out. Gaulish somehow went really well because Swiss-German is pretty close to it and I just really love the language. I also love Swedish, for example, and it's also because it has these open vowels, you know? It's just different to sing.
I also use more powerful vocals on the metal album, of course, and on the acoustic album is more folklore-ish. The metal album was tighter time wise, and I didn't know if I was going to be able to sing all the songs in a row because I never did it. In "Evocation II" I had a bit more time and little bit less parts. I think I grew a lot during these two studio times, because you learn to cope with the time pressure and just get the material and maybe an hour later you have to record it. It's actually really good that now I know that I went through it and I was able to do it. And Tommy really pushed me to the top.
R!: – What's the most meaningful song for you on "Ategnatos"? Which one brings you more emotions?
FE: I really love "Breathe" and I love singing it. I really love the melody of the chorus, it's so simple and also the lyrics are simple but it's deep and I think that's a good mixture (laughs). I also did this yodel in the background and that was also a super cool challenge. "Breathe" is definitely one of my favorites on the album.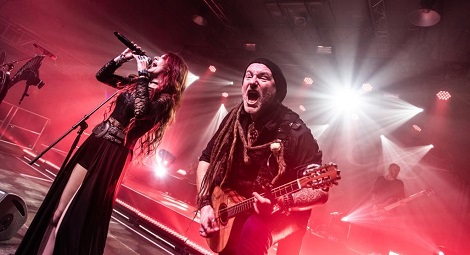 R!: – When was the first time you heard about Eluveitie before joining the band?
FE: Actually I just knew "The Call of the Mountains" because it was sometimes on the radio, but I didn't know the band really.
R!: – Wow, that's a surprise.
FE: Yeah, because I come more from the folk. I was also into Disney musical stuff and Folk because I spent one year in Sweden and then there I discovered the Scandinavian Folk mostly, not even the Celtic Folk. But I come more from this side and I wasn't really listening to metal. I was always open for everything, but yeah, I remember when Jonas (Wolf, guitarist) called me to say "I showed the band the video of you singing, do you want to record a demo of 'The Call of the Mountains' so they can have a listen?". I was like "Oh my God". So he sent me some links of the band and then I checked them out, and I was like "No way, this is too big", you know, I didn't have so much experience. I mean, I was studying music and of course I had some concerts, but it was mostly me on the piano and singing, something like that, but never performing in a metal band. And then I was like "it would be great to have some feedback from such a band, so I'm going to send something". So I really enjoyed singing the song, it's exactly how I like to sing. It's powerful, straight and I like that, I really enjoyed recording it. And then it just kept on rollin' actually because they liked the recording and then I met a few members of the band. I recorded something with Chrigel together and already learned so much back then. I learned a lot since I joined the band, so many great experiences and adventures. I'm really grateful.
R!: – Probably that's one of the best parts of being in a band. Growing both professionally and personally.
FE: Yeah, both. I'm so grateful for being part of this now.
R!: – You said that you like Scandinavia and Scandinavian Folk, what do you like the most about Scandinavia in general?
FE: What I like the most is the nature, I think. In Switzerland most of it is really like there's people everywhere and it's smaller.
I spent one year in the north of Sweden, in Haparanda. Of course it's also a town, but you're in the nature there and the lakes, and just the whiteness, I kind of belong there, it sounds really cheesy, but… yeah, I also like the language, I learned it but then I couldn't speak a word when I went up there, maybe the basics.
R!: – I saw you started a crowdfunding campaign for a new project. Can you tell us some details about it?
FE: Yeah, actually it all started because I did my master's degree in music high school to become a singing teacher. Then my master's degree was to actually build the band and the concept and everything. Then I teamed up with Jonas because we have been on the road for so long this year, and I was like "how am I going to do this?" because I have to work with the people, but I'm never home, so I was "ok, let's team up with Jonas". And then I had friends from school and we had the concert. Then we had songs and I really wanted to record them. So it was like "let's build the side project, why not?" (laughs).
R!: – It's exciting!
FE: Yeah, it's super exciting! But also for me, when I joined Eluveitie, the band was already established and now it's super exciting for me to actually build something from scratch, right? Then you can actually see how much work and passion, how much love you put into such a project and you have to take so many decisions and usually it's the money issue.
It's so interesting, I already learned so much and we're not even out there yet. It's such a great journey, it's very exciting. The project is mostly about all the influences of all the band members and we put them into a pot. There are no borders really. We just work with what we want and just let our creativity flow, so this is actually super nice and I usually come with my piano and the singing, and Jonas makes the arrangements with the drums and everything. We work really well together and it's so much fun. I'm so thankful for the big support we got for the crowdfunding because it's a DIY project. We don't have labels or anything like that, so it's always the money issue. But we decided to do it with Tommy Vetterli because I feel really comfortable with him recording, you need resources, you know? But I'm super excited!
R!: – Let's talk about the past briefly. What's your fondest memory from your childhood?
FE: Hmmm… I think when I went to see my first musical. It was "Aida" with Elton John music. That was when I was with my mom at the Christmas market. I love Christmas and Christmas markets, so my mom and me always went to Stuttgart in Germany once a year to this big Christmas market and spent a weekend there. And in the evening, we went to musical and that was really a moment I will never forget. I was like "ok, it's music", this musical touched me so much (laughs)
R!: – I guess being in Eluveitie and touring the world is a dream come true for you, but do you have any other exciting dreams you would like to personally achieve?
FE: Of course! I mean, with Eluveitie going strong and with our side project, it's about being creative. I have a different role in this project than in Eluveitie, and both are totally fine, but I'm happy that now I can live out two things. Other dreams for the future, maybe when I'm 40 or 50, I really want to go to the north and have a house with a garden.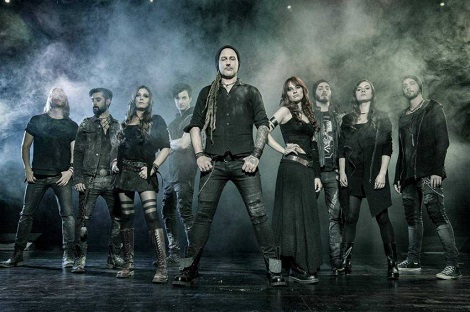 R!: – You mean here in Scandinavia?
FE: Oh yes! It's gonna be in Norrland probably! Let's see what comes, but I could totally see me doing this. Not now because I think it would be too complicated to live up there with all the touring and everything. But later on, it would be great to have some peace and a little studio. I think I will be really happy having that.
R!: – What is the most heartwarming moment you've experienced on tour?
FE: Hmmm… it's hard to mention one specific moment because there are so many. What I love is when I meet people or fans. First of all, when we're on stage, the energy that comes and we give back… it's a give and take, this is why I love it so much. There's something going on on a higher level that you can't really explain, I think. Or just when I talk with the people… sounds cheesy, but it's the love. It's all about the energy (laughs).
I think that's really cool in the metal scene, it's a huge community and I'm really happy to be part of it. Also when I go out after a concert to meet people, this makes me happy. When we take a picture and they're happy, I'm also happy (laughs). It's actually really simple.
R!: – Thank you so much for the interview!
FE: Thank you!
ELUVEITIE DISCOGRAPHY
Vên EP – 2004
Spirit – 2006
Slania – 2008
Evocation I – The Arcane Dominion – 2009
Everything Remains as It Never Was – 2010
Helvetios – 2012
Origins – 2014
Evocation II – Pantheon – 2017
Ategnatos – 2019
ELUVEITIE VIDEOS
"Epona" (2017):
"Ategnatos" (2019):
"Rebirth" (2019):
Tags:
ategnatos
,
eluveitie
,
fabienne erni
,
interview eluveitie
,
metal
,
vocalist eluveitie