Posteado en
Inicio
el 21 d-03:00 March d-03:00 2020 por RISE!
ASTRA
"Oathkeeper – Part 1"
(Eufonia Records)
by Jorge Patacas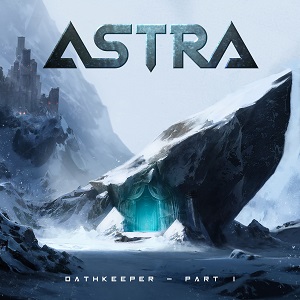 Astra is a new two-man project based in Oslo, Norway. As the story goes, the multi-instrumentalist Sondre Ramstad Paulsen started to work on his own songs while he was still a teenager back in 2012 after not being accepted into the music school and being told he wasn't good enough for his friends band, which, ironically, included the other current member of Astra, his childhood friend William Strengelsund. They both reunited in 2016 and ended up working together as a duo on the majority of the songwriting with Strengelsund providing the vocals. Their debut concept album "Oathkeeper – Part 1" is an epic journey into the ancient land of Kalgard, a saga that's being told through ten songs of which three are instrumentals. Musically, it sounds pretty solid and interesting to keep the listener hooked on. It's a Symphonic Metal album, yet we can easily find influences from Progressive and even Power and Melodic Death Metal with vocals ranging from clean to screaming. Every instrument is placed on the right place according to the climate each song requires and the catchy choruses will make the experience even more enjoyable.
The album will be released on April 3rd and you can listen to their first single "Hammerdown" below!
Tags:
astra
,
cd review
,
metal
,
norway
,
oathkeeper
,
oathkeeper part 1
,
oslo