Posteado en
Inicio
el 2 d-03:00 November d-03:00 2019 por RISE!
SPETAKKEL FESTIVALEN 2019 (Larvik, Norway)
September 27-28th, 2019
by Jorge Patacas
Even when the summer season is over in Norway, there are still a couple of indoor festivals in autumn and one of them is Spetakkel Festivalen, which is held in Larvik, a city located around two hours away from Oslo. The festival has been held on September 27th-28th at Sliperiet, an old building where they used to produce cellulose which was turned into a cultural center back in 2008.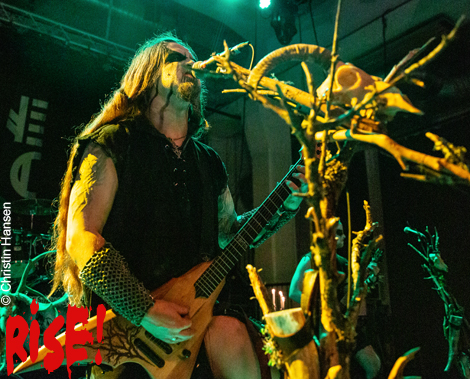 When entering the venue, we could see the stage and a big space for the audience, while the merchandising stands were on the left side and a sitting area where they were selling food was located on the right side, so it was possible to watch a band while being sitting having some food which was definitely a plus.
It all started on Friday with four bands on stage, which were Cutthroat with the festival organizer Pål Borgersen on vocals; Diesel Gorilla from Tønsberg; Aspherium, who had the release party of their new album "The Embers of Eternity" at the festival; and the mighty Susperia playing their only show this year and the first since the return of Athera on vocals.
There were some delays on the schedule during Saturday, so the first band, Skybrudd, went on stage about one hour later than expected, but everything went smooth from there onwards. While the audience was still arriving to the venue, the four-piece originally from Drammen pleased us with their style that is a melting pot of influences where Doom, Sludge, Death and even some progressive elements are merged.
Then it was time for some Norwegian Black Metal which is always well-received in the country where it was born. This time the genre was represented by Visegard, a band that comes from Skien, on a stage that featured goat horns, skulls, elements from nature and candlesticks, and they were wearing corpsepaint in the most notable Black Metal tradition.
Leer más »
Tags:
review spetakkel festivalen
,
spetakkel festivalen
,
spetakkel festivalen 2019
,
spetakkel festivalen review