SPETAKKEL FESTIVALEN 2019 (Larvik, Norway)
September 27-28th, 2019
by Jorge Patacas
Even when the summer season is over in Norway, there are still a couple of indoor festivals in autumn and one of them is Spetakkel Festivalen, which is held in Larvik, a city located around two hours away from Oslo. The festival has been held on September 27th-28th at Sliperiet, an old building where they used to produce cellulose which was turned into a cultural center back in 2008.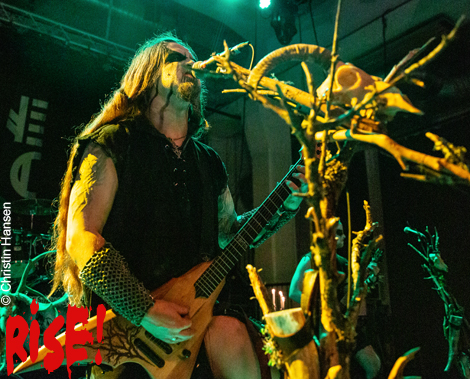 When entering the venue, we could see the stage and a big space for the audience, while the merchandising stands were on the left side and a sitting area where they were selling food was located on the right side, so it was possible to watch a band while being sitting having some food which was definitely a plus.
It all started on Friday with four bands on stage, which were Cutthroat with the festival organizer Pål Borgersen on vocals; Diesel Gorilla from Tønsberg; Aspherium, who had the release party of their new album "The Embers of Eternity" at the festival; and the mighty Susperia playing their only show this year and the first since the return of Athera on vocals.
There were some delays on the schedule during Saturday, so the first band, Skybrudd, went on stage about one hour later than expected, but everything went smooth from there onwards. While the audience was still arriving to the venue, the four-piece originally from Drammen pleased us with their style that is a melting pot of influences where Doom, Sludge, Death and even some progressive elements are merged.
Then it was time for some Norwegian Black Metal which is always well-received in the country where it was born. This time the genre was represented by Visegard, a band that comes from Skien, on a stage that featured goat horns, skulls, elements from nature and candlesticks, and they were wearing corpsepaint in the most notable Black Metal tradition.


Already with a larger audience, The New Death Cult was the next band on the bill. Personally, I've heard of them before, but it was the first time I was able to see them live. They put on a very professional and entertaining show with skull masks from the nose down and some painting on their foreheads that shines in the darkness. However, we're not talking about any extreme sounds here, they're more into alternative sounds with heavy riffs, clean vocals by Alpha and great solos by the lead guitarist Beta (of course the bass player's artistic name is Gamma and drummer's is Delta). They just released their self-titled debut album, so we were introduced to their melodies and catchy choruses. Totally recommended.
After some minutes, it was time for some Thrash Metal and the four-piece Wyruz formed in 2002 in Hamar was in charge of bringing the speed, agressiveness and killer riffs that are a trademark of the genre. They even got time to play a Slayer cover, "Raining Blood", which had a great response from the crowd.
There was a switch between the last two bands of the evening, Djerv and Equinox, so the legendary thrashers played first while the band led by Agnete Kjølsrud concluded the festival.
Formed as early as 1982 in Fredrikstad as Rebellion, they changed their name to Equinox (inspired by Sodom's song) four years later, when almost nobody was playing Thrash in Norway, so now the nordic country had a national band playing the genre. They released four full-length albums until they first split up in 1995. More than two decades later, in 2017, the five-piece reunited and that's how we got the chance to see them on their first indoor festival appearance. Their style of Thrash is more technical in every aspect of it, specially the guitar arrangements where they really show their skills; in other words, they're closer to Voivod than to Exodus. So we were invited to a journey through the past where songs like "Inner Self", "Realm of Darkness" and "Auf Wiedersehen" were performed while there was a really good interaction with the audience in between the songs including some jokes (in Norwegian).
Right after Equinox left the stage, roadies and technicians went on stage to prepare everything required for the Djerv performance which included a backdrop, a logo with big letters behind the drum kit of Erlend Gjerde (also partner and managing director at Indie Recordings label), and three mannequins standing as "backing singers".
Musicians appeared on stage one by one being the vocalist Agnete the last one. The charismatic frontwoman impressed with her look and vocals and fans were clearly very excited to see the band live. Their style is not that easy to describe, but you can find Alternative, Hard Rock and Metal, which makes sense considering there are members from bands like Stonegard and Trelldom in the band. The highlight was definitely the last song "Headstone", where the vocalist even crowdsurfed over the audience giving a perfect ending to the evening.
Overall, it was a really good experience to attend a festival in a city such as Larvik with good sound, nice atmosphere and a great balance between some well-known Norwegian bands and other more underground acts, that's a formula that always works. We really hope Spetakkel Festivalen to keep up the good work and continue to grow. Evolution is always the key. Skål!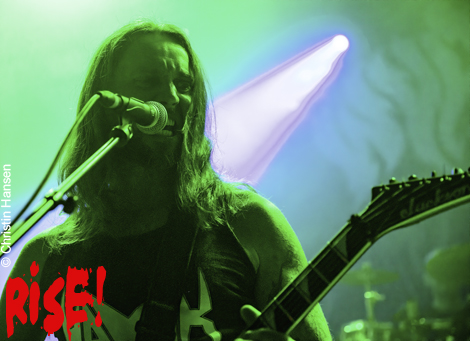 Tags:
review spetakkel festivalen
,
spetakkel festivalen
,
spetakkel festivalen 2019
,
spetakkel festivalen review