NIGHTWISH
"Dark Passion Play"
(Nuclear Blast)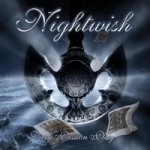 Después de tres años de despedir a Tarja Turunen vuelven los fineses Nightwish con nueva vocalista, Anette Olzon, de origen sueco y esta obra maestra "Dark Passion Play", uno de los discos más caros de la historia de Finlandia, grabado en los Abbey Road Studios con la Orquesta Sinfónica de Londres y el Metro Voices Choir. Asi como nos anticipa el título, es un derroche de pasión, lleno de ira, odio, amor, entre otras cosas, tal como nos tiene acostumbrados Tuomas Holopainen (tecladista y principal compositor).
La larga "The Poet and the Pendulum" abre esta obra con sus cinco partes, con la característica de contener una gran variación de atmósferas. Luego encontramos a la directa "Bye Bye Beautiful" con su significado escondido, tras una entrevista a Tuomas en Madrid, éste develó que está dedicada a la anterior vocalista Tarja Turunen. Le sigue "Amaranth" conteniendo un poderoso coro y un estribillo muy pegadizo.
En "7 Days to the Wolves", "Cadence of her Last Breath" y "Sahara" podemos apreciar los tonos más altos de Anette. Encontramos en "Master Passion Greed" la canción más heavy del álbum interpretada totalmente por Marco Hietala con poderosos riffs y batería al palo, aquí Marco canta con su característico estilo potente y agresivo. Recién en "Eva" es cuando la cosa se suaviza, este es el primer single del disco, con el cual se dio a conocer la voz de Anette. Todos los ingresos desde Europa por la compra del single fueron donados a la fundación de niños carenciados Die Arche y el single fue exclusivamente para páginas de internet.

"Whoever Brings the Night" es un tema escrito por Emppu donde nos trae uno de esos hermosos solos a los que nos tiene acostumbrados con poderosos riffs, seguido por "For the Heart I Once Had", un tema tranquilo con mucha pasión y unas guitarras muy cálidas.
En "The Islander" y "Last of the Wilds", los Nighwish se remontan a sus comienzos con influencias folklóricas. "The Islander", es un tema escrito e interpretado por Marco donde conocemos una nueva faceta de él ya que canta de manera muy suave. Y "Last of the Wilds", es un instrumental con instrumentos propios de Finlandia como lo son el kantele, el símbolo musical más importante de dicho país y un Bodhrán, tambor de origen Irlandés, entre otros.
"Meadows of Heaven" cierra la obra con un hermoso coro acompañando a Anette. Encontramos la presencia del coro gospel, algo muy extraño partiendo de la base que es una banda de metal pero resulta siendo una de las mejores cosas, debido a la originalidad que esto implica, y lo arriesgado resulta siendo lo más bello. Termina con un excelente desempeño vocal de Anette fusionándose con el coro y combinándose con esos excelentes cantantes afroamericanos que le dan un final perfecto a este nuevo comienzo.
En conclusión, es un disco difícil de entender a primera escucha, deben ser considerados todos los detalles para que se pueda apreciar la genial obra del maestro Tuomas Holopainen.
Natalia Sansoni.
Tags:
anette olzon
,
anette olzon review
,
emppu vuorinen
,
marco hietala
,
nightwish dark passion play
,
nightwish dark passion play comentario
,
nightwish dark passion play reseña
,
nightwish dark passion play review
,
nightwish reseñas
,
nightwish review
,
nightwish reviews
,
tuomas holopainen