SIXTY 8
"Before The Fall"
(Independiente)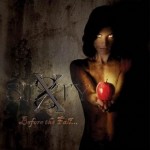 Sixty 8 se autodefine como una banda de Retro-Metal o Nu-Classic Rock. Con esto ya podemos prever porque lado vendrá este disco.
"Before the Fall" suena Hardrockero, con un sonido más adecuado a estos tiempos, pero siempre mantenido la esencia del género.

Tiene riffs rabiosos, buenos solos, un vocalista con mucha personalidad y las clásicas baladas que nunca pueden faltar en las bandas de Hard Rock.
Al escuchar el disco se ven reflejados los cinco años de trabajo que hay sobre sus canciones, la calidad de sonido que lograron y la fuerza que transmiten. La vertiente más moderna del disco se puede notar en "Blood Red Sky" y "Alone", ambos con gran fuerza, guitarras más elaboradas y no tan directas. Y la faceta más clásica resalta en las baladas "Interactive" y "All She's Ever Known".
En pocas palabras podemos decir que "Before the Fall" es un disco con el espíritu de Hard Rock, pero modernizado.
Raúl "Piki" Garrido.
Tags:
critica sixty 8
,
reseña sixty 8
,
review sixty 8
,
sixty 8 before the fall