El pasado 12 de Enero se dio cita uno de eso eventos que solo se da en la ciudad de Los Angeles.
Bajo el nombre "Adopt The Arts", varios artistas de las más renombradas bandas del rock mundial se congregaron en el famoso Roxy de la Sunset Strip de Hollywood, por una buena causa.
Llevado a cabo a través de la organizacion Adopt The Arts, creada por el ex Guns N' Roses, Matt Sorum (Velvet Revolver), el motivo del evento fue dar homenaje a dos leyendas del rock como Billy Gibbons (ZZ Top) y Butch Trucks (Allman Brothers) para recaudar fondos para los programas musicales para las escuelas públicas, que en su mayoría han sido eliminados por falta de presupuesto.
La zapada contó con otras luminarias como Steve Lukather (Toto, Ringo All Star Band, etc), Richie Sambora (Bon Jovi), Slash y Duff McKagan (Guns N' Roses, Velvet Revolver), Edgar Winter, Orianthi (Michael Jackson, Alice Cooper), y Jimmy Vivino (Conan O'Brien Show), y Big Elf, entre otros.
Se hicieron dos sets, uno con canciones de los texanos ZZ Top (ver lista abajo) y otra con temas de los Allman Brothers.
Entre ambos sets, se realizó una suculenta subasta de artículos de colección que iban desde parches de los Guns N' Roses firmados por los tres ex miembros presentes, pasando por productos de belleza y de costura de John Vavatos, copia de la hoja de la letra de "Ventura Highway" de la banda America, hasta guitarras firmadas por todos los ya mencionados.
Lucas Gordon y Alan Sosa.
ZZ TOP set:
01- "Beer Drinkers And Hell Raisers" (Billy Gibbons, Damon Fox, Billy Duffy)
02- "Tush" (Billy Gibbons, Steve Lukather, Jimmy Vivino, Edgar Winter)
03- "Cheap Sunglasses" (Billy Gibbons, Edgar Winter)
04- "Rough Boy" (Billy Gibbons, Richie Sambora, Orianthi, Matt Sorum)
05- "Waitin' For The Bus" (Billy Gibbons, Matt Sorum, Duff McKagan)
06- "Jesus Just Left Chicago" (Matt Sorum, Slash, Duff McKagan, Billy Gibbons)
07- "La Grange" (Billy Gibbons, Matt Sorum, Slash, Duff McKagan, Steve Lukather, Richie Sambora, Edgar Winter)
ALLMAN BROTHERS BAND set:
01- "Trouble No More" (Jimmy Vivino, Butch Trucks)
02- "Don't Keep Me Wonderin'" (Franky Perez)
03- "Midnight Rider" (Richie Sambora, Orianthi)
04- "Stormy Monday" (Edgar Winter, Jimmy Vivino, Slash)
05- "One Way Out" (Steve Lukather, Jimmy Vivino)
06- "Statesboro Blues" (Butch Trucks, Billy Gibbons, Richie Sambora, Matt Sorum)
07- "Whipping Post" (Butch Trucks, Matt Sorum, Slash, Richie Sambora and Billy Gibbons)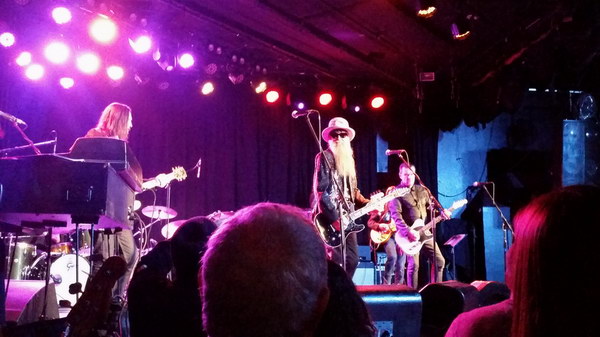 Tags:
adopt the arts
,
allman brothers
,
zz top