MONSTER MAGNET at Parkteatret (Oslo, Norway)
Opening act: PUPPY
Sunday, January 13, 2019
by Jorge Patacas
Almost twenty-one years have passed since the Monster Magnet breakthrough album "Powertrip" was released and their videos for "Space Lord" or "Powetrip" were in MTV's rotation when it was actually a music channel. Times have changed a lot since the end of the 90's, but the group hailing from New Jesey which has the vocalist/guitarist Dave Wyndorf as the remaining original member, has managed to be active for thirty years now releasing good material. "Mindfucker" is their tenth full-length album which was released by Napalm Records in 2018, so they're currently promoting it. As part of their European tour, they arrived in Oslo on January 13th to play for a sold-out venue in the heart of Grünerløkka area.
The doors were opened at 19:10 and fifty minutes later, the warm-up act Puppy took the stage to play a 30-minute set. Don't let yourself get fooled by the band's name which may cast some doubts, they're going to convince you with their music from the first minute. Puppy is a trio from London, England which was founded in 2015 and now they're about to release their debut album "The Goat" via the well-known Finnish label Spinefarm Records. Their sound has a clearly 90's vibe mixing Alternative Rock/Metal, Grunge and some Nu Metal influences with "Billy Corgan-ish" vocals. "Entombed" is one of these songs that could be considered a classic hit now if it would have been released twenty five years ago; it's catchy, it has a very good guitar solo, and even the video looks like it was released two decades ago. But all of their songs are worth to listen to, so check out their debut album when it's out!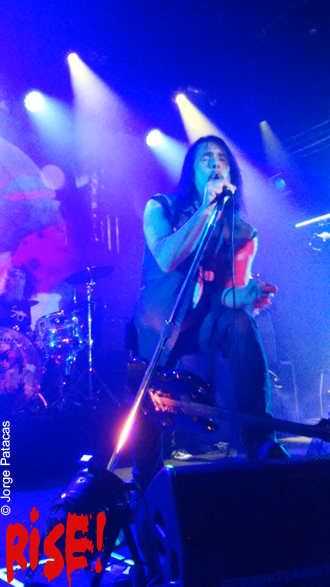 The Stoner Rock masters Monster Magnet entered the stage a quarter past nine o'clock, starting with an old gem, "Dopes to Infinity", playing in front of very loyal fans, not only from Norway, but also from other countries like Germany or US. Some of them were watching the band for the first time since they discovered them during the 90's, and that was my case too, so the expectations were very high. The current lineup sounds very tight and the legendary Wyndorf infects the audience with his amazing attitude. He's already 62 now and still rocks as always, it just doesn't seem he's that age. Some songs from their latest album like "Rocket Freak" and "When The Hammer Comes Down" were played, but most of the set was focused on older material including tunes such as "Melt", "Look To Your Orb For The Warning" or "Negasonic Teenage Warhead", which was like being transported in a time machine to the mid-90's when the "Dopes to Infinity" album came out. By the way, for those who don't know, the character with the same name in the Deadpool movies was named after this Monster Magnet classic. This was one of the highlights during that night together with the hit "Space Lord" which was extended because Wyndorf started to play with the audience, he encouraged them to sing the words "Space Lord Motherfucker!" as loud as possible and it was just a fantastic moment. Then they went off the stage just to return a couple of minutes later to play the encore which consisted of "CNN War Theme", "Dinosaur Vacuum" and another kick ass anthem called "Powertrip" with those killer riffs and its great and unforgettable catchy chorus. It was just a perfect ending for the show and after that it was time to relax as "the Gods" say in the lyrics for that song.
SETLIST PUPPY
01- Entombed
02- My Tree
03- Just Like You
04- Black Hole
05- World Stands Still
06- The Great Beyond
07- Arabella
08- Forever
09- Demons
SETLIST MONSTER MAGNET
01- Dopes to Infinity
02- Rocket Freak
03- Crop Circle
04- Radiation Day
05- Melt
06- Look To Your Orb For The Warning
07- Ego Living Planet
08- When The Hammer Comes Down
09- Negasonic Teenage Warhead
10- Space Lord
Encore:
11- CNN War Theme
12- Dinosaur Vacuum
13- Powertrip