MORTIIS at Revolver (Oslo, Norway)
Opening Act: OFFERMORSE
Saturday, April 27, 2019
by Jorge Patacas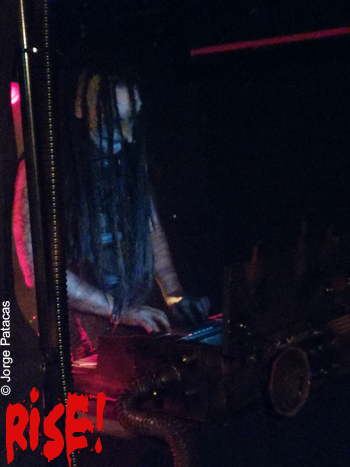 Håvard Ellefsen, better known as Mortiis, has been through different phases along his musical carrer. He started out playing Death Metal in the band called Rupturence, switching to Black Metal when he was part of Emperor as their bass player, then he began a solo career where he experimented with different sounds. His first steps as a solo artist were on a genre he called Dark Dungeon Music, this being the beginning of the Era 1. With "The Smell of Rain" album from 2001, his music moved towards Electro Pop and this marked the beginning of Era 2, which was followed by the Era 3 where his sound got strongly influenced by Industrial Rock inspired by bands like Nine Inch Nails. After a four-year hiatus, his come back was with "The Great Deceiver" in 2016, and this was the beginning of the Era 0. While Mortiis works on a new album to be released this year, he decided to revisit his second effort "Ånden Som Gjorde Opprør" after a long time, playing it live in its entirety on a tour that even took him to South America last year. This time, the gig was at Revolver, one of the several venues where concerts are held in Oslo, the Norwegian capital city.
After a very good show by the support band Offermose from Denmark, two banners where put on each side of the stage, smoke started to come out of it, and the masked Mortiis emerged from the shadows with just a synthetizer. There was no microphone for him to talk to the audience at all, but it wasn't necessary; his cold and intense look was the visual contact with them, while the music did the talking, enchanting and taking us to unknown and very dark places. It's original, atmospheric and captivating music. As its own definition says, the music on the Mortiis first era sounds like it came out from a dungeon.

Right after his performance of "Visjoner av en Eldgammel Fremtid", second and last track of the album he revisited that night, Ellefsen stepped back from the keyboard and disappeared into the shadows, while a great applause echoed around the venue. This was a different and unique show. Highly recommended!
SETLIST MORTIIS
01- En Mørk Horisont
02- Visjoner av en Eldgammel Fremtid