BEYOND THE GATES 2019 (Bergen, Norway)
August 21-24, 2019
by Jorge Patacas
Beyond The Gates (formerly Hole in the Sky) is one of those festivals that always offer an interesting lineup, especially for those who are into the extreme metal subgenres. It's held in the usually rainy city of Bergen, located in western Norway, which has breathtaking landscapes, in addition to Bryggen, an area next to the harbor with colorful houses that in some cases date from the 18th century, which is on the UNESCO list for World Cultural Heritage sites.
The festival began on Wednesday, August 21 in a small place with very limited capacity called Hulen (The Cave, in Norwegian), which opened in 1969 and has its premises in an old bomb shelter. Imha Tarikat, Ritual Death and the swedes Watain performed there, in front of an audience who sold out the venue and got thrilled by a show that those who were there described with mostly positive comments.
Rise! has been invited to the next three days of the festival, where the venue was USF, which stands for United Sardines Factories, and yes, it is a sardine factory that turned into a concert venue, which has two floors. The first includes the stage, merchandising stands and bars, while on the second floor there's a VIP area with a perfect view of the stage and another bar.
In addition to the live bands, the festival offers extra activities such as listening sessions of new releases both at the Apollon Records record store/bar and at the Galleri Fjalar, Gaahl's art gallery, who welcomed us when we attended the session of the "Seafarer" album by Lindy-Fay Hella, who is known for her work with Wardruna. The album that comes out on September 20 via Ván Records, was produced by herself with Herbrand Larsen and contains nine highly recommended tracks.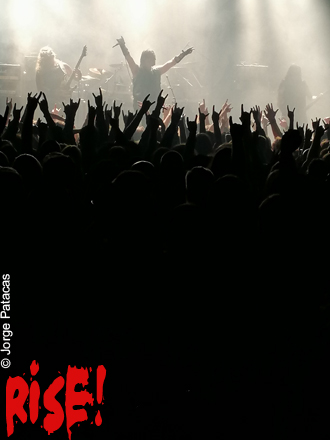 Other listening sessions were the new albums by Solstorm, Asagraum, 1349, Darkend and Costin Chioreanu, and there was also a panel comprised of record label owners, managers, festival promoters, among others, where they discussed the future of The music industry.
The activity in terms of concerts on Thursday began at 7 p.m. with Obliteration, who released their fourth studio album, "Cenotaph Obscure", last year via Indie Recordings. They deliver some good Old School Death Metal, a lot of speed and aggression to start the day.
Svartidauði (Black Death in Icelandic) with their particular Black Metal style was next. They were formed in 2002, but only have two full-length albums released, both with very positive reviews by fans and media. Songs from both albums were performed that night, with raw vocals by Sturla Viðar, killer riffs by Þórir and G.E. and heavy drumming by Magnús, alternating the most aggressive sections with the quieter almost Doomy parts.
Behexen, for their part, delivered a six-song set of pure Black Metal proving that there are quality exponents of this genre in Finland too. They started with "Cave of the Dark Dreams" from their most recent effort "The Poisonous Path" (2016) followed by a journey through their discography playing songs like "Wrathful Dragon Hau-Hra", "By the Blessing of Satan", "Mouth of Leviathan", "My Soul For His Glory" and "Death's Black Light".
A high dose of the most visceral Black Metal came from Marduk, who mercilessly fired bombs like "Panzer Division Marduk", "Baptism By Fire", "Werwolf" and "Throne of Rats" devastating everything in their path. Without major surprises, but fulfilling expectations, the Swedes had a solid performance that makes it clear why they achieved the status they have today on the scene.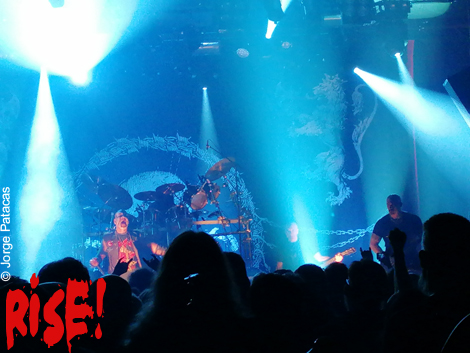 Good decision by the organizers to have chosen Mayhem as the last band of the night. Watching this legendary band in their home country is always special, even when it is not the first time something like that happens. A few days before releasing their new album, "Daemon", through their new label Century Media, the quintet decided to split their set into three parts. One featuring songs from "Grand Declaration of War" and "Chimera", another featuring part of their classic "De Mysteriis Dom Sathanas" on its 25th Anniversary, and the third one featuring songs mostly from "Deathcrush", each of them with outfits and stage lighting adapted to each era, so the blue, violet and red colors stood out accordingly. "Freezing Moon", "De Mysteriis Dom Sathanas" and "Deathcrush" were some of the highlights on their performance.
The legendary Greek band Varathron was responsible for opening the night on Friday. Despite facing some technical problems twice, they delivered their 100% on stage with a formula based on Black Metal and an excellent response from the crowd, which at first seemed a bit shy, but ended up chanting the name of the band, something that rarely happened during the whole festival.
Then it was Horisont's turn, who stood out in the festival lineup, since they are not related in any way with the extreme metal as the rest. We've seen cases like this before in other festivals, and it's a fact that it actually attracts fans who want to see something different too. And this was again proved when witnessing a sector of the audience enjoying a show inspired by the 70's Hard Rock, both musically and aesthetically.
Soon after, the lights on the stage dimmed and a masked Hellhammer appeared behind the drum kit, followed by guitarists Sverd and Knut Magne Valle, bassist Skoll and the great vocalist ICS Vortex, who is also part of Borknagar, with his face covered and wearing a hooded cape. Although there was no interaction with the crowd, the band delivered a set full of old gems such as "Wintry Gray", "Master of Disguise" or the much celebrated "The Chaos Path", one of the highlights of the show.
I had already seen Emperor at the one and only Wacken Open Air, but this was the first time I was going to see them in a more intimate environment at an indoor venue in Bergen, where they didn't play in 22 (!) years! The expectations were high and the excitement was present, and of course they didn't disappoint. With a stage featuring the band's logo and the green color dominating the scene, Ihsahn (vocals/guitar), Samoth (guitar), Tony Secthdamon (bass) and Trym Torson (drums) conquered Beyond the Gates with a clear sound that allowed us to enjoy their "Anthems to the Welkin at Dusk" album in its entirety, which includes timeless classics such as "Ye Entrancemperium", "Thus Spake the Nightspirit", "The Loss and Curse of Reverence" and "With Strength I Burn", in addition to some gems from "In the Nightside Eclipse" (1994) such as "The Majesty of the Night Sky", "I Am the Black Wizards" and "Inno A Satana". As an additional note, both albums were recorded in Grieghallen, the studio located in the city center.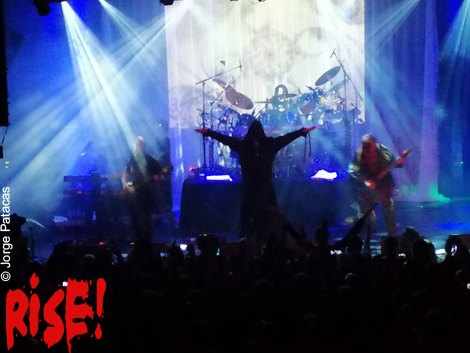 After the majestic show delivered by Emperor, there was still more, because Primordial from Ireland was next and they would be responsible for closing Friday night. Fronted by their vocalist A.A. Nemtheaga, the band managed to put on an intense show before those who still stood in front of the stage, with highlights such as "As Rome Burns" and especially "Empire Falls".
Although Necros Christos means "Dead Christ" in Greek, the band is originally from Berlin, Germany, and its name has been floating around in the scene since the beginning of the last decade, having released three albums to date. Their music is clearly influenced by Death and Doom Metal with some Black elements, and this seemed to be the ideal fusion to start Beyond the Gates' last evening.
The next ones on stage were Lucifer, who have two albums behind them. Among its members we found the master Nicke Andersson who, after a long career with legends such as Entombed or The Hellacopters, no longer needs introduction and of course he met the expectations, proving once again his drumming skills. His wife Johanna Sadonis is a frontwoman with great charisma, moving around the stage, enjoying the moment and impressing with her great voice, one of the best from the new wave of Occult Rock bands that emerged in recent years. The rest of the lineup, comprised of Robin Tidebrink and Martin Nordin on guitars and Alexander Mayr on bass, know exactly what to do with their instruments, and together they put on an excellent rock show that featured songs such as "Phoenix", "California Son", "Dreamer", "Abracadabra", "Faux Pharaoh" and "Eyes in the Sky"; Curiously, they didn't play the catchy "Izrael" which was their first single released already four years ago. "Satanic Pop… Abba before Abbath", that's how Johanna jokingly described the band from stage, but if you like 70's riffs a la Sabbath and a voice in the style of Coven's Jinx Dawson, this will be your new favorite band.
Watching a band like the north americans Midnight live is always a pleasant experience. The masked trio take their influences from Motorhead and Venom to new levels of speed and energy which are hard to compare with other bands today. This has given them a very good reputation on the scene and they are always well received in European territories thanks to overwhelming tracks such as "Satanic Royalty" and "You Can't Stop Steel". Wherever you are in the world, if you have the opportunity to see them live, do it, you won't regret.
After the bombastic speed of Midnight, it was the turn for the epic, dense and heavy Doom of the legendary Swedes, Candlemass, who in 2018 recruited Johan Längquist again, the vocalist for the classic debut album "Epicus Doomicus Metallicus". For many, that night would be the first time to see them live next with him. It was Wonderful to see him singing anthems like "Mirror Mirror", "Bewitched" and their all-time classic "Solitude" with an impeccable sound. The band connected with a crowd that even sang the happy birthday to guitarist Lars "Lasse" Johansson, while he got a cake and the rest made jokes about his age.
After the legendary Doom band, it was Abbath's turn who, along with his solo band comprised of Ole André Farstad on guitar, Mia Wallace on bass and Ukri Suvilehto on drums, were responsible for closing the evening and the festival. He presented his new album "Outstrider" and songs from his first self-titled effort, in addition to some stuff of his band I, the one that released the album "Beyond Two Worlds" in 2006. His performance had everything one expects: Black Metal, evil riffs, humor, and a brilliant ending with him raising an axe like the ones we usually see in his promo pictures.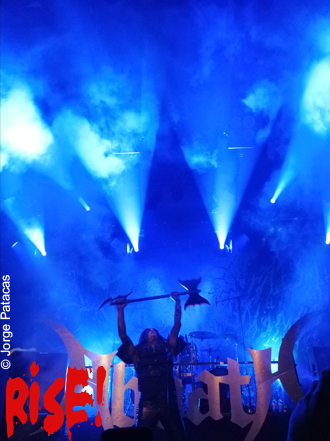 This concludes a new edition of a festival that is already a tradition for Bergen, Norwegians from the rest of the country and international visitors who arrive every year from all over the world; even musicians who did not play at the festival attended as part of the audience, that was the case of Eric Peterson (Testament), Calvin Robertshaw (ex My Dying Bride), and the locals Jørn Tunsberg (Hades Almighty) and Gaahl (Gaahls Wyrd, ex Gorgoroth).
Both the festival promoters and the volunteers did an outstanding job with lots of professionalism, providing the requested information and everything necessary for an event to go well, so the audience left very satisfied. We hope to be back again next year and if you have the opportunity, do the same!