HØSTSABBAT 2019 (Oslo, Norway)
October 4-5, 2019
by Jorge Patacas
Are you a Stoner, Doom, Psychedelic, Prog or Heavy Blues fan? Have you ever thought of a festival lineup full of bands from these genres in an unusual location such as a church!? Seems unreal? Well, you can actually get that at Høstsabbat in Oslo, Norway!
The promoters started the festival six years ago in a different venue, but moved to the Kulturkirken Jakob last year, so this was the second edition at this place, and it's just perfect. The acoustics and the atmosphere of the church clearly fits this kind of music and everybody's satisfied with it. The program was split in three different stages this time, the main one was the chapel, then there was another one in the crypt with a limited capacity for 120 people and just crossing the street there was a third stage at a bar called Verkstedet with a capacity of 140 people where only Norwegian bands performed.
Day 1:
Shows at the main room kicked-off with Skraeckoedlan, a Stoner-meets-Psychedelic four-piece from Norrköping, Sweden. "Eorþe" is the name of their third studio album which came out this year and is a collaboration with sci-fi author Nils Håkansson. We got exposed to their fuzzy riffs since the beginning of a show that featured lots of overwhelming energy which comes from a ten year career experience.
When going downstairs, one was able to appreciate the art exhibition curated by Linda K. Røed and Trine Grimm, two artists originally from Haugesund which are well-known within the Norwegian metal scene. Linda's works can be found on album covers from Darkthrone, Svattjern, Glittertind and many other bands, and Trine is a full-time tattoo artist with a studio based in Oslo.
Then the North Americans Yatra took over the stage. The trio has been touring Europe for the first time after hitting the road in their homeland following the release of their debut album "Death Ritual", so we were able to witness their bombastic Sludge Doom performance with aggressive screaming vocals.
When reading the name Electric Eye, the first thing coming to your mind is, of course, Judas Priest, but don't get confused, this four-piece from Bergen has absolutely nothing to do with the British Heavy Metal masters. It's hard to describe their style, but they sound quite atmospheric with lots of psychedelic rock sounds making sure to transport us to a sonic journey where the keyboards are essential. Electric Eye has been around since 2012, released three albums and they're ready for more!
Next in line was the Swedish band Stuck in Motion, who played in the crypt. Their Psychedelic Blues captivated the audience who filled the place. They use guitars, bass, drums, keyboards that always have a leading role on their tunes and even percussion for those that have a hippie-vibe on it. Some even exchanged their instruments, which shows that at least three of the musicians are multi-instrumentists. This is a very interesting band to check out.

Back on the chapel, the Sludge/Doom outfit Sunnata came out all dressed in black while there was incense on stage. The Polish band was formed in 2008 as Satellite Beaver, changed it to the current name in 2013 and released their recent album "Outlands" last year, from which they performed some songs in a stage that seemed ideal for them.
Coming from Sweden, Yuri Gagarin, obviously named after the cosmonaut of the same name, gives us a hint of what kind of stuff they're into. Space Rock at its best is what these guys from Gothenburg had to offer at a crypt that was totally packed. Lights alternated between green and blue matching their instrumental cosmic tunes which also have Stoner elements. A super interesting group that has released three full-length albums so far.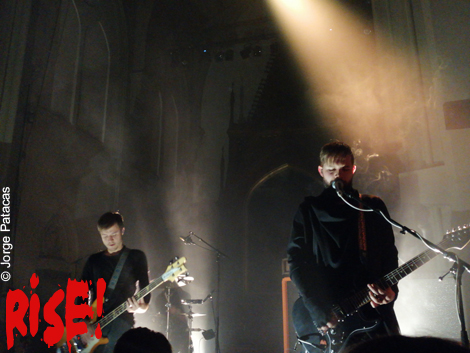 By the end of the first day, it was the turn of Ufomammut from Italy, who are celebrating their 20 years of existence.
Unlike the rest of the bands, the headliners would play an hour and a half where they would play material from all eras.
The Doom legends embarked us on a cosmic trip enchanting us with their hipnotic and almost never-ending sounds building tension for some time until things finally got harder and heavier and the crowd reacted as expected. Some of the songs on their set were "Zodiac", "Smoke" and "God", the one they chose to put an end to their show.
The first day was concluded, so it was time to take some rest in order to recharge batteries for the second day which was definitely exciting.
Day 2: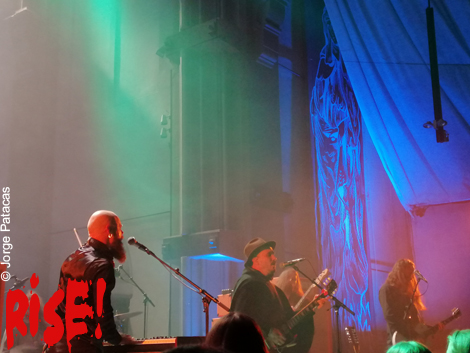 Arrived to the church exactly when Hexvessel went on stage to start their set. This was the first time I was going to see them live so there were lots of expectations. They have released their fourth studio album this year, so some tracks from this album were performed that evening. The Finnish six-piece proved they are as good live as they're in studio, showcasing their formula consisting of perfect melodies and arrangements, amazing vocals by Mathew Kvohst McNerney, and unique atmosphere which set the appropriate mood for each song. If you have the chance to catch them live, don't hesitate to see them!
Acarash is a name that I've been hearing on the local scene since I arrived to Norway even if they were founded just three years ago, so it was time to finally check them out live. This Oslo-based outfit plays a very interesting fusion of Black and Doom Metal and offers an intense show which in this occasion featured songs from their first and only album to date, "In Chaos Becrowned", released in 2018 via Dark Essence Records, one of the most important metal record labels in Norway.
Personally, I was particularly excited to see the Polish instrumental four-piece Belzebong, who I've already seen a couple of years ago on their South American tour and had a great impression. As usual, the Stoner/Doom masters came out on stage and performed a set of six long songs with massive Sabbath-esque riffs. As usual, no verbal communication with the audience was required, they just let the music do the talking while headbanging to each and every riff. The band has released their third full-length album "Light the Darkness" last year and they keep growing and getting better with every release.
Now it was time to go downstairs again. What an amazing feeling is when a band you never heard of just blow your head off with their powerful live performance! That was the case for many in the crowd when seeing the London trio Slabdragger that night at the packed crypt. These guys started out in 2008, and have released two albums so far, being "Rise of the Dawncrusher" the latest one which came out in 2016.
It's hard to describe their genre, but they're intense, dense, heavy, complex at times and they won't let you keep standing, you will be moving before you know it. They played a set full of energy and by the end, they decided to play a spectacular cover of "Muffin Man", originally by Frank Zappa.
Then it was time for the local band The Devil and the Almighty Blues, who clearly played in front of many of their fans who had a great response since the beginning, and even more with the catchy "Salt the Earth". Some minutes later, and just across the street, Magmakammer was about to start their performance at Verkstedet bar. This was definitely a band I wanted to check out live since I've been listening to their studio material and really dug it. For those who don't know anything about them, they come from the city of Kolbotn in Norway and have a full-length called "Mindtripper" which came out last year and their most recent material was released this year under the name of "Bloody Diamond". Musically, they have clear influences from Black Sabbath with psychedelic influences here and there. They put on a pretty good show where heavy riffs and atmospheres are essential, while images behind the drummer accompanying the music, makes the whole experience more special.
Headliners for the second day were the almighty Colour Haze who were visiting Norway for the first time in their 25 year career, so the expectations were high. These guys are masters when it comes to Stoner/Psychedelic Rock with a retro-oriented sound and that's why so many people praised them at all times during their performance. They have released their latest effort "In Her Garden" in 2017 and are about their new album called "Life", so we got to hear some of it, but of course they've also included old gems in their set which lasted two hours, more than any other from the festival. There were keyboard-driven peaceful passages of total relax and heavier sections along with lots of jams and highlights such as "Transformation" and "Tempel", getting a warm response for which the Germans were grateful again and again.
There are many festivals in Norway every year, but if you're a fan of the aforementioned genres, Høstsabbat is a must. Not only you get your fix of Doom low-tuned guitars, Stoner fuzz, psychedelia and Sabbath-worship riffs, but you also get to see bands like Colour Haze or Ufomammut playing live in a church, what else can you ask for? Congratulations to the excellent organization who made Høstsabbat a success once again. Already looking forward to the next edition in 2020!