ÆSTHETICA – WRATH at Rock In (Oslo, Norway)
Saturday, March 5, 2022
by Jorge Patacas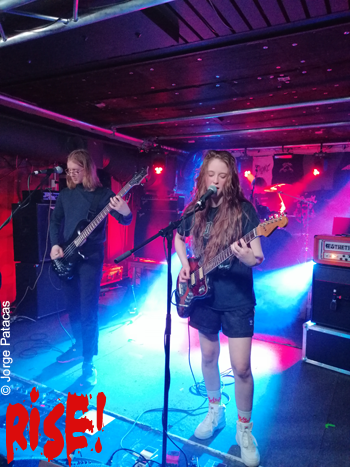 The booking agency Brenn Alt has been producing shows in different parts of the Nordic country for a while now. The bar/venue Rock In has been their home many times when it comes to concerts in Oslo and this was also the case on March 5 with a bill featuring two bands.
The evening began with Wrath, a young trio coming from Haugesund and Bergen, two cities located in the west coast of Norway. They've been performing together for three years now and have recently released their debut EP on cassette distributed by the Oslo-based label Snake Oil Kassettforlag.
After playing in Trondheim the previous weekend, it was time for them to stand on a stage in the country's capital for the first time. For those who never heard of them, their sound is heavily influenced by alternative and progressive metal, although some elements from other genres like grunge can be heard occasionally as well. They put on a performance that takes us on a journey through different climates with slower passages driven by Leon Torskangerpoll on bass and Sander Skogen on drums that contain structures reminding us of the likes of Tool.
Jenny Rudi (vocals/guitar) brings a lot of energy on stage singing with her clean and more melodic voice, but also showing her abilities to scream when the songs require it. Lyrically they're inspired by topics such as nature and death and this is clearly reflected in their music. A song like "Epitaph" would be the perfect example for this; it was, in fact, one of the best parts of their performance. However, the highlight came towards the end when they played "Stormr", the first song on the EP, where the audience started a moshpit that was joined by Rudi herself who jumped off the stage. Melodic yet raw at the same time, that's a good way to sum up what we have witnessed.
By the way, make sure to check out their music video for the song "Revival" which will be released on March 19th!

Æsthetica were next. This four piece comes from Kolbotn, a town located in the outskirts of Oslo which is well-known in the metal scene for being the hometown of Darkthrone, but unlike the black metal legends, their music has its roots on the psychedelic side of doom metal with Sabbath-esque riffs. However, they allow themselves to experiment with other subgenres such as post-rock for instance, a mix of influences by which they create an almost hypnotizing and mysterious atmosphere throughout their live show. Tobias Brynildsbakken Huse (vocals/guitar) has a pretty unique range that lies somewhere between Jus Oborn (Electric Wizard) and Robert Smith (The Cure) giving the songs a slightly melancholic vibe. He's backed by a solid lineup consisting of Simon Dahl on guitars, Vetle Rian on bass and Petter Moland on drums.
The 10-minute long "La Paz" was definitely one of the highlights here. First half of the song is very slow with middle-eastern guitar sounds which create the perfect mood to prepare us for what's coming in the heavier second half. That powerful chorus and the sinister riff impressed the same way it did in the studio version that came out on their debut album, "Sonorus Æeon" (2017).
"Worshipper" is another one with riffs and pounding drums which makes it almost impossible not to headbang to.
Besides the aforementioned "Sonorus Æeon", the band released their second studio album "Azuren" in 2019, and the third one is coming out this year, so stay tuned!
This evening has shown us once again that there's a promising future ahead within the scene and that's a reason to celebrate. Skål!