THUNDERWORKS
"Thoughts and Thunder"
(Independiente)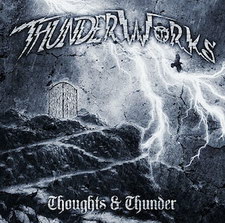 Agrupación cuasi solista de la mano de Michael J. Amari, dado que el vocalista Voidspawn es sesionista (rima incluída). Fue en el 2008 que todo empezó a rodar en Thunderworks, es por esto que "Thoughts and Thunder" sea un disco debut tan variado obedeciendo a los estados anímicos que el tiempo puede desatar, pudiendo notarse en sus tracks características de géneros diversos y aparentemente dispares, siempre entrelazados por el Death Metal.
"Trial of Time" comienza la batalla con Death Metal aderezado a su Groove. "A Vast Unknown" puede resultarnos familiar a una banda muy conocida en el Río de la Plata como lo es La Renga, con sus guitarras sucias cargadas de sentimiento. "Rainwalker" va más allá de todo lo ofrecido hasta el momento, incluyendo guitarras acústicas, fragmentos donde el bajo cobra destaque y momentos de verdadero Death N' Roll. Este fluir stoner es retomado en "Spiderweb Starlight". "Beyond the Seventh Sea" es una de las canciones más entretenidas y con uno de los mejores riffs del disco, además de momentos acústicos muy logrados recordando a los Metallica del pasado. A partir de "If Nothing Never Was", el disco se orienta hacia terrenos tradicionales, sin abandonar el horizonte Death Metal. Ésta canción en cuestión refleja un abordaje de guitarras inspirado en Iron Maiden, e incluye también voces limpias. "Mind Fortress" es la cúspide de este sentimiento de Metal clásico, cerrando con la doom metalera "…For all eternity".

Quisiera destacar el excelente artwork incluido, son trabajos como el presente los que motivan la adquisición de material original. Hablamos de un disco extenso y no fácilmente digerible. La producción podría ser ligeramente superior, sin embargo no se puede desmerecer la gran labor aquí expuesta por Mike Amari.
Gonzalo Deubelbeis.
Lyric Video de "Trial of Time":
Tags:
thunderworks critica
,
thunderworks reseña
,
thunderworks review