Posteado en
Inicio
el 5 d-03:00 May d-03:00 2019 por RISE!
ALEX SKOLNICK TRIO at Herr Nilsen (Oslo, Norway)
Wednesday, March 27, 2019
by Jorge Patacas
On March 27, the legendary Testament guitar player, Alex Skolnick, arrived in Oslo with his Alex Skolnick Trio project, which also features Nathan Peck on bass/double bass and Matt Zebroski on drums. The event took place at Herr Nilsen, a small Jazz club located in front of the court where Varg Vikernes was sentenced in 1994.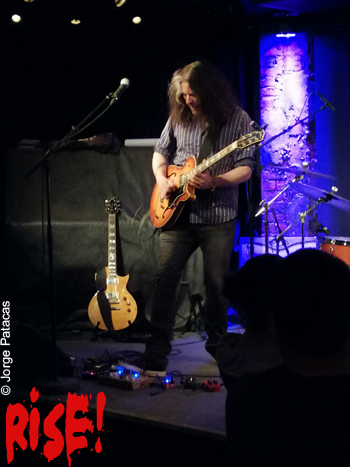 For those who are not familiar with Alex's side project, it was formed in the beginning of the last decade after he developed his passion for Jazz studying and obtaining a degree at the New School for Jazz & Contemporary Music in New York City.
As part of the tour for their fifth album "Conundrum" (2018), the band showed all their virtuosity in front of both Testament and Jazz music fans. In a relaxed atmosphere, while the audience had a drink on the cold Wednesday night, Alex and his band played a setlist that included everything. They started with two pure Jazz compositions, "Unbound" and "Culture Shock", both featured in their latest effort with a very good response. Then it was time for a very different version of Aerosmith's classic, "Dream On", adapted to the style of the trio, and then set out to play Funk in a song dedicated to the late pop icon Prince. But Skolnick's versatility when playing all these different styles would not end there, since next one was "Django Tango", which is, as its name indicates, a tango dedicated to the historical Jazz musician, Django Reinhardt, a song that was included in his solo album, "Planetary Coalition", released in 2014.
Leer más »
Tags:
alex skolnick herr nilsen
,
alex skolnick trio
,
concert review
,
gig review
,
live review
,
norway
,
oslo
,
testament