The Ukrainian band Jinjer has just released a new EP called "Micro" which they're currently promoting across Europe as special guests for the Amorphis/Soilwork co-headlining tour. One of the dates was in Oslo, Norway, so it was a great opportunity to talk with their bass player Eugene Abdiukhanov about their new album, the experience on the Latin American tour, the metal scene in Ukraine and many other interesting topics about life!
RISE!: – The tour has just started a few days ago, how is it going so far?
Eugene Abdiukhanov: We played just six shows, this is the sixth one. So far this was the most problematic because this is the first time we don't have a soundcheck, so it was a bit hard from the technical point of view. But in general terms it was fine, same as the other shows, Stockholm was wonderful, Copenhagen was once again wonderful because we played there already three times and all the shows there were awesome! Everything is going very well.
R!: – Before starting the interview, we were talking about your Latin American tour. You were there last month and even played in my home country Uruguay, so how was your experience in Latin America? I know you even got a tattoo there! (Tattoo says "Con Latinoamérica en mi Corazón")
EA: This is the answer. Let me show you once again… (He shows the tattoo on his arm). So, this is how it went. It was perfect, we really fell in love with the whole Latin America, every single country treated us very, very well. It turned out that we have thousands of fans there and had this huge concerts in Santiago, Buenos Aires, Mexico City, Sao Paulo and Montevideo was a very good concert too. There are only positive feelings and feedback about the whole tour. I cannot even think of a single negative thing.

R!: – So your experience with IDL Entertainment was good too, right?
EA: Yeah, send Ian a "Hello" from me!
R!: – If I'm not mistaken, you're the first band from Ukraine doing a whole tour in Latin America…
EA: Well, Stoned Jesus played in some countries…
R!: – Yes, but I think you have played in more Latin American countries actually…
EA: Yeah, our tour was bigger.
R!: – So why do you think Jinjer was able to stand out from the rest of Ukrainian bands and be able to do this?
EA: What do we have which makes us stand out? We're just crazy. That's the only reason. The band started ten years ago, but we have started touring in 2013 and for six years we never stopped. We have always been on the road and it takes too much. You have to sacrifice a lot of things, you have to pay a huge price for this and you have to set your priorities in a way that music becomes the most important thing. This is what makes us different from the other bands. I mean, there are some other bands in Ukraine that play very well with good music and good songs, but it's not enough in the modern world, it's never been enough, you have to work hard and move forward. And this is what the others do not have, unfortunately.
R!: – You come from a country that has been through a lot of tough stuff…
EA: It still going…
R!: – Yeah, so you've grown up during the 90's, right?
EA: Yeah, I was on the secondary school during the late 90's.
R!: – So, do you think this context has inspired you in a way when writing songs for Jinjer?
EA: Of course! A lot of songs and lyrics are directly inspired from childhood. I have to say that our childhood was very, very tough. Straight after the collapse of Soviet Union, the whole decay of the 90's was a huge economical and social crisis, we experienced this being children. In short words, it was a very tough period of time, draconian times we can say. It definitely has its trace on the whole music of Jinjer. I believe this is one of the reasons why we turned to heavy music, it was just a sort of escape, a way out.
R!: – Tell me something about your background, have you been in any other bands before joining Jinjer?
EA: Yeah, I had a number of bands before. I joined Jinjer in 2011, but before that, I've played in quite a lot of bands.
R!: – All metal bands?
EA: Most of them. I had at least one band with more or less serious lineup, we were big Opeth fans and covered "Damnation" completely and composed songs similar to "Damnation" too, some kind of dark fusion.
R!: – We have a section in our website called "Dark Genesis" which is about the band names origin explained by the musicians themselves. I know you were not in the band since the beginning, but how did they come up with the name Jinjer?
EA: There is no meaning. Nobody knows in the band how they came up with the name. None of us were in the band when they name the band Jinjer. That's why there's no answer to this question. Last time we went to the US, we met Max, the original vocalist who is now living in California, and he spent almost a week with us as a roadie. So I asked him what was behind the name and he said that actually nothing. They started comparing the band's name Jinjer with the sound of the distorted guitar like "jin-jer, jin-jer", and that's it, nothing else.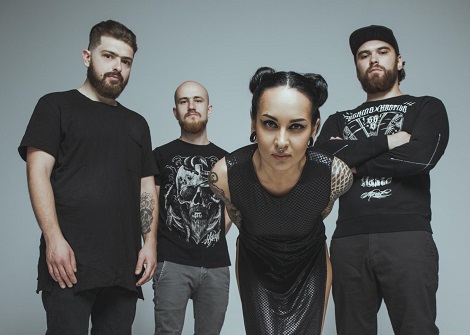 R!: – You've just released a new EP called "Micro", what details can you tell us about this new material? Is there any kind of concept or correlation between the songs on this EP?
EA: There's a concept behind the whole EP. Tatiana (Shmailyuk, vocals) originally and then me tried to pay attention to the inside of people, humanity, to get deeper into details. Originally it was called "Microverse" and then just shorten it to "Micro". It's about paying attention to details, looking inside somebody's soul. On the other hand, "Micro" suits well for an EP because it's short.
R!: – So are these songs going to be included on the next album as well or is it a different thing?
EA: No, this is a separate release that we're very proud of. We really think that what we've done now is the next step, the evolution of the band. The next album is going to be again different from what we've done now.
R!: – "King of Everything" was a step forward in your career, this was your first album released by Napalm Records, then "Cloud Factory" was also reissued by the same label. So it seems there's a great relationship between the band and the label, what would you say it's the best thing of working with them?
EA: Promo. They do very well promotion, they help to reach the big media like Sirius XM in US for example, many different radio stations all around the globe, magazines, websites, all sorts of music media. Before signing with Napalm, we didn't have a chance to bring our music to such a wide audience. This is what the label does best, definitely, they promote your music in the best way you can imagine. Also, monetary investments, they do help the bands by making some sort of money investment and this is very important for a band. If you have a band and want to tour the US, you need a lot of money, otherwise you won't be able to do that.
R!: – You're going to play at European festivals this summer including Wacken Open Air on their 30th Anniversary, that's very important.
EA: Yeah, one of the lifetime goals I would say…
R!: – Would you agree with me if I say this is the best moment of your career so far?
EA: No, because there's no limit. The sky is too high and I would personally never reach the limit. Playing at Wacken is of course a big achievement, but there are so many things to do. After reaching some point, you should always look forward and set your goals. This is what I do and what the band does, it doesn't matter what you do, playing music, do business, play sports, you should never stop, you should never look back, always look forward and set your goals, no matter how far you have gone.
R!: – I agree with that. I actually relate to one of your songs in particular, "I Speak Astronomy" which is about releasing your energy to the universe. I know Tatiana is really into all these kind of things like meditation and connecting with the universe, how about you?
EA: Same thing. At one point of time, Tatiana and I, we were really into science and we're still into it. I cannot even remember a single night going to sleep without reading a scientific article. There are a few sites and communities on Facebook which just post recent discoveries and articles and we read them. I'm really into this and she's too. This is one of the things which inspire us a lot to write about, it gives us a lot of topics to mention in songs. Personally I can say that this is a big part of my life. It's very important for me to realize what I am, where I am in the scheme of the whole universe and understand I'm a part of this universe too.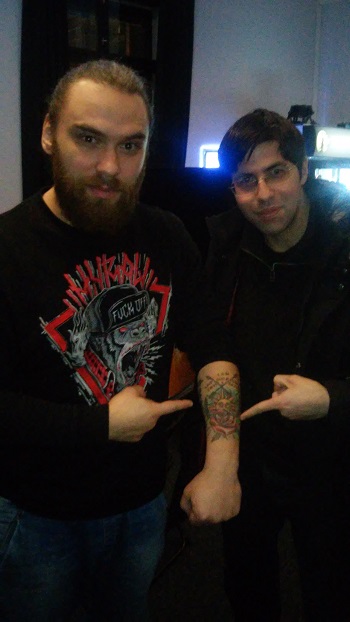 R!: – So do you meditate sometimes too?
EA: I do martial arts, I consider this to be sort of meditation too.
R!: – That's great. Do you practice often or only when you're not on tour?
EA: I do it when I'm home. Unfortunately, I have not a chance to do it while I'm on tour, but when I'm home I go to the gym everyday.
R!: – Do you have any other dreams apart of music?
EA: (he thinks…) "Dreams" is a strong word. There are tons of dreams, but there are things I want to do and I want to happen in my life. One of them is actually related to my family and my son, I want to bring up my son to be just a good person. Nothing else, just a good and happy person.
R!: – Anything else you'd like to say to the readers of RISE!?
EA: If people read me in Uruguay, I just want to let my friends there know that we're looking forward to come back not only to Uruguay but the whole Latin America. South America, Mexico and maybe some Central American countries because we haven't been there yet. I definitely want to go and play there!
R!: Thank you so much for the interview!
EA: Always welcome!
JINJER DISCOGRAPHY:
OIMACTTA EP – 2009
Inhale, Don't Breathe EP – 2012
Inhale, Don't Breathe – 2013
Cloud Factory – 2014
King of Everything – 2016
Micro EP – 2019
JINJER VIDEOS:
"Exposed As A Liar" (2012):
"Scissors" (2012):
"Sit Stay Roll Over" (2016):
"I Speak Astronomy" (2016):
"Pisces" (2016):
"Just Another" (2016):
"Ape" (2019):
"Perennial" (2019):